Crossfire Part-3
Probes designed to fail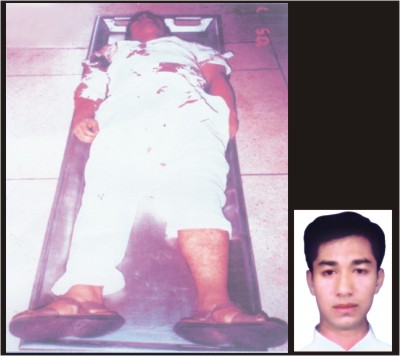 Incidents of "crossfire," "encounter," "shootout" and "gunfight" claimed around 1,200 lives in the last six years thanks to shady enquiries into the allegations of extrajudicial killings to get the responsible law enforcers legally protected.
In cases when investigation reports were submitted complying with court orders or persistent media reports, victims' families and rights organisations invariably found those incomplete, biased, misleading, self-contradictory and flawed.
Each government enquiry committee usually comprises a joint or additional secretary and police commissioners. "A universal maxim goes that you cannot be the judge in your own case. The system they are following is wrong and flawed," said National Human Rights Commission (NHRC) Chairman Prof Mizanur Rahman.
"It is not acceptable anywhere in the world," he added.
Recently, the NHRC rejected the government probe report into the disappearance of Tusher Islam Titu, who allegedly went missing after Rapid Action Battalion (Rab) picked up him from his village home in Sirajganj in 2008.
Following the NHRC rejection, the home ministry has formed a fresh one-member committee with a joint secretary to review the past investigation.
"The investigation must find out if the incidents of 'crossfire' or 'shootout' or 'encounter' had taken place under rational circumstances. It is necessary to find out that the force the law enforcers had used in self-defence was proportionate to the circumstances," Prof Mizanur Rahman observed.
The credibility of government investigation into extrajudicial killings has reached such a state that even rights organisations are currently reluctant to have their involvement in any such probe.
For instance, Ain O Salish Kendra (ASK) sent its representative for investigation into disappearance of the youth in Sirajganj. Insiders say despite overwhelming evidence of Rab involvement, the report was vague and incomplete. In the investigation the ASK representative had no say whatsoever.
"During investigation our representative felt helpless under bureaucratic tangles and pressures, their findings were very sketchy," says an ASK source.
Legal and Media Wing Director of Rab Mohammad Sohail claims the government carries out impartial executive enquiry into each of the custodial deaths. He adds departmental enquiry is also being carried out against Rab men.
"As many as 350 Rab men lost their jobs, while 800 were punished on charges of posing threats, bribery and intimidating people," Sohail said.
However, Rab departmental enquiries did not have anything to do with any deaths in their custody. Sohail says the investigation reports could not be disclosed as all the cases are under trial.
The most frequent question asked is how the law enforces say the victims died in "crossfire" when doctors examining their bodies say they were shot from a very close distance and sometimes point-blank.
SOME DEATHS AND INVESTIGATIONS
A night guard watched from a few yards away how law enforcers "executed" a young man on Dholaipar Natun Rasta at Mirhajirbagh in Jatrabari in the early hours of October 12, 2004.
Speaking anonymously, the night guard quoted one of the plainclothes law enforcers as saying, "Wasim, your mother is crying for you. Can you run back home if we let you go?"
Wasim, an alleged criminal of the area, was being taken to their van when they let him loose. As Wasim tried to run away, he collapsed and was shot in the head by the law enforcers, the night guard continued.
The next day the police claimed through media that following his arrest, Wasim, an accused in murder and robbery cases, was killed in a "shootout" as his gang members opened fire on law enforcers.
The night guard told The Daily Star he was ready to narrate his story as an eyewitness, but nobody showed any interest to talk to him.
In another incident, Khandaker Iqbal Hossain Masum, a resident of Mohammadpur, was killed in an "encounter" on July 8, 2005 after detectives picked him up.
His father Abul Khayer said three bullets hit Masum almost in the same area of his body. Doctors at Dhaka Medical College Hospital also said he was shot point-blank.
It was raining at the night of the "encounter" in Rayer Bazar, but the flip-flop Masum was wearing were clean and his white panjabi and pajama did not have any trace of dirt or mud, said Khayer. He also produced a photo of his son's body lying on a stretcher at DMCH to substantiate his claim.
The investigation conducted into Masum's death by an additional deputy commissioner of police was biased and false, said Khayer. Following his petition a court ordered fresh reinvestigation into the case, which is still under trial.
Anisur Rahman allegedly died of Rab torture in 2004. His brother Aminur Rahman said he saw Rab men snatching away medical papers from on-duty DMCH doctors after they declared him dead.
INSTANCE OF GOVERNMENT INVESTIGATION
The NHRC rejected outright and termed incomplete the government investigation report on disappearance of Tusher, who was allegedly picked up by Rab from Dukhuria Bera Bazar in Sirajganj in July 2008.
This correspondent had access to the report and followed the trail of the government investigation conducted by a three-member committee headed by Deputy Secretary (defence) Nazimuddin Chowdhury.
During a visit to Dukhuria Bera Bazar at least a dozen people, picked up randomly, were shown Titu's picture. All of them said they had seen four people (some claimed five, possibly including the human hauler driver) identifying themselves as Rab personnel picked up the person in picture.
Nosimon (human hauler) driver Abdul Mannan was an eyewitness of the incident. Four men identifying themselves as Rab members took Titu from the bazaar to Mukundgati in Belkuchi on his Nosimon.
Other witnesses include shop owners Faridul Islam Kalu and Mokbul Hossain and businessman Hasmat Ali Hashu.
On arrival at Mukundgati, the Rab members stopped two motorcycles on the road and asked them to hand over their bikes for the sake of "state's need for fast transportation of a criminal to Dhaka".
During the conversation the bike owners, vital witnesses to the case, saw the Rab personnel's identity cards. As they were arguing with the force, Rab men finally took their bikes at gunpoint, they said.
Saiful Islam Faruk and Haji Ashraf, both hailed from Shreenagar village, filed a general diary (GD) with Belkuchi police station stating the incident (Diary No. 656 of July 22, 2008).
Both the bikers told the investigators how the Rab men took away their bikes and what happened next.
The government enquiry report also referred to police stopping and checking both the motorcycles but did not elaborate on it.
Before filing the GD both the bikers went to Jamuna police station the same day and the on-duty police officer confirmed that the four men were Rab personnel.
The next day (July 23, 2008) Deputy Assistant Director Mukhlesur Rahman of Rab-3 with other members of his unit handed over the bikes to Belkuchi police. The handover was formally completed with filing of a GD (No. 680 on July 23, 2008) by Mukhlesur Rahman.
It appears the enquiry committee misquoted the GD claiming it to be contradictory to the statement of witnesses and Rab personnel.
The GD filed by Mukhlesur was read out to this correspondent by Officer-in-Charge of Belkuchi police Mostafizur Rahman. Mukhlesur stated that the motorbikes were taken for transporting an accused fast to Dhaka, a statement that corroborated with the witnesses' account.
As Rab never admitted to arresting anyone in the area that day, there is no scope of finding contradiction between its statement and that of the witnesses and the GD.
The enquiry committee finally managed to identify four Rab personnel -- DAD Hanif, ASI Feroz Ahmed, corporal Amin Ullah Tapu and ASI Humayun Farid -- who admitted before the committee that they were present in the area that day.
The four also told the committee that following an order from Capt Rezaul Karim they went to the area to recover equipment for printing fake notes. They categorically denied having arrested anyone there, which the investigation committee found incorrect.
The probe committee during investigation never tried to confirm Titu's identity with the people they interviewed.
It never attempted to identify the Rab men by the eyewitnesses. The main weakness of the investigation was its failure to question Capt Rezaul Karim who allegedly ordered the operation, says one of the people involved in the investigation asking not to be named.
The probe body did not question Capt Rezaul after Rab informed it that he had returned to his mother unit in the army.
The committee concluded its report saying, "The statement Rab gave to the committee is not correct. As a result it is tough to be sure who arrested Titu as statement of the locals, description of the GD and statement of Rab are contradictory."