A freedom fighter's testament
Shahid Alam has a positive opinion of a soldier's tale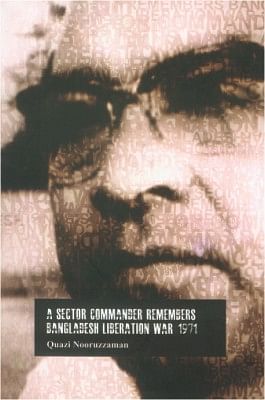 Those who try to distort history are living in a fool's paradise, because history itself proceeds unopposed, victorious with the passage of time, crushing untruth. History cannot be influenced by any particular polity."
Now, isn't that the truth, but one that the abysmal political culture of Bangladesh seems to consign to the dustbin of history by being the proverbial ostrich with its head in the sand believing that, by so hiding from reality, the storm that is blowing about is really not happening? But however much one tries to hide from the truth, the harsh reality is that, some day, the truth will come out. History will see to that. The lines quoted at the outset have been taken from Quazi Nooruzzaman's slim volume entitled A Sector Commander Remembers Bangladesh Liberation War 1971, translated by Zahiruddin Md. Alim. And he has given his perspective on the Liberation War all right, at least some of which will give heartache to a number of people, but, which, I dare say, detached and unbiased history will one day establish as truths.
"History exists," as Elias Bickerman, once Professor Emeritus of History at Columbia University, has written, "only in a persisting society which needs history to persist." And, more than many countries, history needs to persist in Bangladesh. Quazi Nooruzzaman was the commander of Sector 7 during the Liberation War who, unusually for someone who risked so much in the battle zone, but which reveals a good deal about the man and his way of thinking, declined the award of Bir Uttam on the ground that the Liberation War was a people's war, and that gallantry awards are given to professional soldiers ("Everyone is a soldier in a war of liberation, young and old alike….It would be impossible to pick and choose among the many who deserve it."). And, throughout the book, he strives to show that the freedom struggle was fought mostly by ordinary people rising to extraordinary heights. These words eloquently capture his efforts at telling the people's story, and not just of those who took up arms: "The ones whom I would rather write about are not just lost, they have never even been properly recognized. Nor have they demanded recognition."
And, so, "Let the history of the Liberation War be told truthfully. I should write whatever I can remember of those who had supported the Liberation War from their hearts; who had given their all, with no thought of reward or recognition. It was they who made this land free. At the same time, unpleasant truths should also be written. There were those who just waited to enjoy the fruits of the Liberation War, claiming the right without having fought. They should be exposed." He does not pull any punches when giving his views on the negatives that he saw or heard or surmised during the course of the freedom struggle.
Among them is his conviction (and he provides some compelling evidence) that India had planned for Bangladesh's Liberation War to be managed by, and controlled from, New Delhi on its own terms and in its own time frame, including deciding on who would best serve its interests in post-bellum Bangladesh. Therefore, a specific group of men (who later named themselves Bangladesh Liberation Force, BLF for short, but who were called "Mujib Bahini" after 16 December 1971) were trained as political commandos by Indian Major General Oban. The reason? "The Indian authorities realized that many college students with leftist ideas would join the liberation forces and possibly help to build a leftist ideology in Bangladesh. The political commandos were established to neutralize such a possibility. The intention was to disarm the purely-motivated freedom fighters and put power in the hands of the government in exile, once victory had been achieved."
He clearly and pointedly distinguishes between the BLF and the vast majority of the freedom fighters known as the Mukti Bahini, totally to the former's discredit. He also states that, going by the experiences in his sector, the "Awami League leadership kept little contact with the Mukti Bahini….I had asked more than one MP to come and stay at the sub-sectors, but they did not. We were told that their lives were too valuable to be put at risk in the sub-sectors. Because of their absence, the politics of the Awami League did not reach the freedom fighters." Zaman then ties this factor with India's strategy and planning, including as the war was entering its endgame stage. "Political thinking within the Mukti Bahini was not within the scope of the Awami League. The Indian intelligence department was able to sense this. For this reason, the Mukti Bahini was not given heavy weapons. India also had to take steps not to prolong the Liberation War. Apart from keeping the Mukti Bahini under control they also had to consider the international situation. It became necessary for the Indian army to intervene, and not just wait it out." Furthermore, the Bangladesh "sector-members were preparing for a long war, which is not what the Indian authorities wanted. It went against their aim, which was to maintain their influence over Bangladesh after the war was over."
Zaman talks about the famous 7 March speech of Sheikh Mujibur Rahman, an event where he was present, and heard the Father of the Nation ending his speech with "Pakistan Zindabad", and, moments later, on the advice of the student leaders, "Joy Bangla". Zaman takes no issue with the end salutations, reasoning that Pakistan was still politically undivided, but takes a dim view that the words "Pakistan Zindabad" have been expunged from the rendering of the speech with the observation that, "I believe this tampering with the speech diminishes Sheikh Mujib's political efforts." And, over a particularly contentious issue that continues to deeply divide the nation against itself, Zaman is convinced, offering a number of arguments in support, that Ziaur Rahman first announced the independence of Bangladesh over the radio. He then reasons, "Let's say it was Ziaur Rahman who was the first announcer of independence. What does it matter? Does this announcement belittle the Awami League or Sheikh Mujibur Rahman? Not in the least."
Zaman recounts acts of great bravery, cruelty, as well as cowardice, both from freedom fighters (including an officer who refused to go to the frontline to observe Pakistani positions, and another who self-inflicted an injury to avoid going to the front, but who later on ended up becoming a general), and of the BSF of India. He did not think much of General (then Colonel) Osmani as a military leader or of his temper tantrums. He draws a very sympathetic portrait of Captain Mohiuddin Jahangir, one of his sub-sector commanders, who was killed two days before liberation and was posthumously bestowed with the highest gallantry award Bir Sreshtho. Zaman also recounts how another of his officers, Major Najmul Huq, was killed, but was denied permission by the Hindu authorities to let his body be ritually cleansed at Malda Circuit House (in India) because he was a Muslim, and how impoverished Hindus inside Bangladesh succoured him and his troops with their meagre possessions. There are other personal accounts in this compact little volume. My particular favourite is Zaman's antipathy towards Ayub Khan (one time Pakistan's president) developed over several encounters with him that later contributed to his joining the Liberation War. In 1949, before a number of foreign dignitaries and high officials, on Zaman telling him that he was from East Pakistan, Ayub pronounced that, other than the Dhaka Nawab family, there were no "good" families in East Pakistan. Zaman's riposte was that only people from a good family can recognize others from a good family. Touché!
Dr. Shahid Alam is Head, Media and Communication Department, Independent University Bangladesh (IUB)#