Forging ahead
In conversation with Moushumi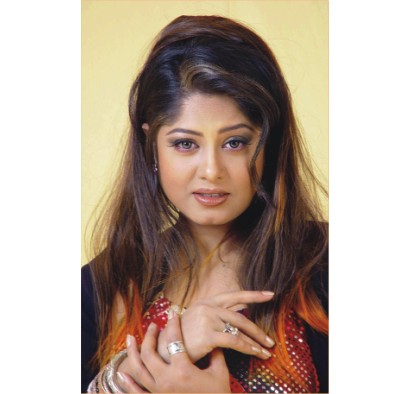 The Daily Star recently caught up with popular movie actress Moushumi at FDC. Here are highlights from the conversation.
"I'm coming to FDC after an eight month break to act in "Ek Cup Cha" -- a film which marks the debut of my good friend and fellow actor Ferdous as a producer. Shooting for the film is on at floor number nine," said Moushumi.
Asked about her minimal movie appearances in recent times, the actress says it is time to move over for new aspirants. Her plan was to quit altogether, says Moushumi, but people close to her, including her husband Omar Sunny, convinced her otherwise.
Currently Moushumi has a full plate: as Chondromukhi in Chashi Nazrul Islam's "Debdash"; the same director's "Dui Purush" and Mohammad Mustafa Kamar Raj's "Projapoti" are awaiting release, while Mushfiqur Rahman Gulzar's "Kushum Kushum Prem" and Jahid's "Jibon Jontrona" are in the final stages of their making. Moushumi says "Dui Purush" is an ATN Bangla production where Shoeb acts opposite her. Shakib Khan stars in "Debdash", a Channel i film, while she pairs up with Zahid Hasan in the ntv production "Projapoti". "Jibon Jontrona" is a state funded film and Ferdous stars in his own production "Ek Cup Cha".
The actress does not regret her few appearances on the silver screen, rather she cherishes the chance to be closer to her family.
Despite appearances in over 150 films, Moushumi has only two directorial ventures to here credit: "Kokhono Megh Kokhono Brishti" and "Meher Negar". She says directing is more difficult than acting and she has no immediate plans of trying her hands as a director. Moushumi has two movies from her production house Kopotakkho -- "Goriber Rani" and "Bou-er Shomman", with no future production plans. The production of TV plays, however, continues from Ariyan Production and Shadin Production houses, also belonging to the actress.
The versatile actress' latest endeavor is as a fashion designer through her fashion house 'The Levis' -- something which she says is a hobby.
Moushumi regards her strong will and determination for her continuing success since debuting in "Keyamat Theke Keyamat". The love of people and fame are Moushumi's gains from her career, while the actress says her greatest loss is losing her simple self as the price of stardom.
In her illustrious career Moushumi has won a national award once -- for her performance in Nargis Akhter's "Meghla Akash", which she regards as one of her greatest achievements.
Despite the lack of silver screen time, Moushumi is regularly appearing in TV plays. Due to requests from her peers, she is currently acting in TV serials "Eka" and "Amader Nurul Huda". Two TV plays starring Moushumi will also be aired this Eid.