<i>Getting wired by alternative link </i>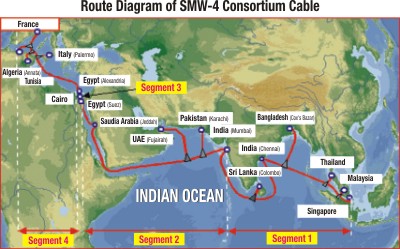 The country may be fibre-optically connected with India by the first week of November, as a terrestrial cable linking the two nations is set to be operational within four weeks.
The 25-km link connects Darshana of Bangladesh with Krishno Nagar of India to act as an alternative backbone to the submarine cable in case of emergency.
"We are ready to establish the terrestrial link from our side within next one month," said Absar Alam, managing director of Bangladesh Telecommunications Company Limited (BTCL), at a press conference in the city yesterday.
"Hopefully, our Indian counterpart Bharat Sanchar Nirgom Limited (VSNL) would also be ready for the operation within that time," he added.
Earlier in November last year, BTCL inked a deal with VSNL in this regard to extend the fibre link into India.
"The optical fibre line would improve the quality of international telephone calls while acting as an alternative submarine cable during any disruption in service," Absar said.
The Tk 1.5 crore project is expected to bring down the costs of calls to neighbouring countries.
"It is a very good move. Such measure is known as route diversity in the industry. Blending the submarine and terrestrial cables for international connectivity is a standard practice worldwide. It's better to be late than never," said Abu Saeed Khan, secretary general of the Association of Mobile Telecom Operators of Bangladesh.
"But the private sector of Bangladesh should be also allowed in the international submarine and terrestrial connectivity businesses. Let's not forget, Tata and Bharti are the private sector icons in India," he said.
However, some industry insiders said they are in the dark about the actual terms and conditions of using the new link.
"It is not clear whether the new optic-fibre cable will have an international access point or the access point would be restricted to one particular country," said Zahir Ahmed, chief executive officer of Mir Telecom.
"Also, we are not sure how the actual cost would be decreased for end users or other licensed call handlers," he added.
BTCL has been communicating with India by microwave at Tk 12 per minute, down from Tk 18 until June of last year.
Speakers at the conference also said that Bangladesh is unlikely to face any gross disruption in call traffic during the upcoming repair work of Thailand's SMW-4 cable.
"We have made all necessary arrangements for back-up traffic during the repair work through re-routing and adding of new bandwidth," said Monowar Hossain, managing director of Bangladesh Submarine Cable Company Ltd (BSCCL).
"In addition, we have arranged to connect with the India's Bharti Airtel maintained i2i cable, which directly connects Chennai with Singapore."
"This i2i cable would act as the alternative route to connect with east-bound traffic during the repair," he added.
On September 22, the Submarine Cable Consortium told BSCCL two repeaters will be replaced in Satun, Thailand, 316 km off Malaysian landing station in Melaka, from October 2 to October 11.
The repair work was postponed until October 15 as India's Tata Communications, the network administrator for SMW-4, warned of disruptions to the Commonwealth Games in Delhi.
"BSCCL also requested the consortium to start the power reconfiguration at 1am Bangladesh time, as the traffic will be comparatively lower then, which was accepted by the consortium," said Hossain.
According to BSCCL officials, all international calls will be disrupted for only three to four hours, but eastern traffic may be worse than western.
"During this period, Bangladesh will experience limited connectivity as traffic will be maintained through VSATs and satellite earth stations," Hossain said.
"The replacement would affect the east-bound traffic in Southeast Asia, not with the rest of the world," he further explained.