Rich nations must compensate Bangladesh for climate change
Speakers tell Rajshahi discussion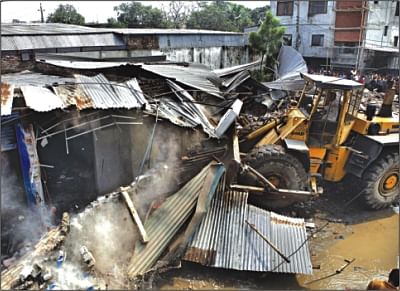 The industrialised and rich nations must compensate Bangladesh adequately to help the country cope with the adverse impact of climate change, speakers at a daylong discussion in Rajshahi city said yesterday.
They said the rich nations are solely responsible for the alarming situation created by the climate change, posing formidable threats to the country's weather, agriculture, irrigation, navigation, ecology, bio-diversity, environment and underground water levels.
The discussion titled ''Climate change impact in northwest Bangladesh and adaptive measures'' was jointly organised by Assistance for Slum Dwellers (ASD) and Network on Climate Change, Bangladesh (NCCB) at the conference hall of Rajshahi Chamber of Commerce and Industry.
The speakers said the situation is now fast worsening due to rise in temperature leading directly to melting of ice, caused by unbridled emission of green house gases like carbon dioxide, methane, nitrous oxide, hydro-flouro-carbons, per-flouro-carbons, sulphur hexa-fluoride in the developed countries.
The industrialised countries are not taking any step to protect the poor nations constantly facing the most disastrous threats from the global climate change, a phenomenon resulted from the reckless human interventions for eras, they added.
In his address of welcome, ASD program coordinator highlighted the aims and objectives of the dialogue while NCCB Research and Advocacy Coordinator Saudia Anwar described the ongoing activities of her organisation to fight the climate change impact.
Prof Dr Chowdhury Sarwar Jahan of geology and mining department of Rajshahi University presented the keynote paper giving an overview of the present environmental consequences of climate change while Prof Dr Mijanuddin, dean of social science of RU, illustrated the adverse impact on people's livelihood.
The keynote speaker mentioned that the climate change has now caused a major concern for agriculture, environment, ecology, bio-diversity, climatic patterns and even existence of the habitation and civilisation throughout the globe.
In this regard, he viewed that the climate change will raise temperature, sea level, and frequency and intensity of natural calamities, trigger glacial melting in the Himalayas, decrease availability of fresh water, and compel shift of cropping zones in the country affecting agriculture and food sector.
Most speakers of the discussion said due to lifting of huge underground waters for Boro farming every year, the underground water levels have been marking abnormal falls in recent decades and it might even lower this year.
They emphasised a collective effort of all concerned to address the impacts of climate change and to identify the statistical issues of the environmental and ecological challenges ahead.
Journalists Mustafizur Rahman Khan, Akbarul Hassan Millat, Rashed Ripon, development workers Abdus Samad, Dr Dizendra Nath Sarker, Shawkat Ali, District Relief and Rehabilitation Officer Saiduzzaman and Project Officer of Rajshahi City Corporation Golam Mostofa took part in the open discussion, among others while Monzur Rashid of NCCB moderated it.
Over 50 experts, researchers and development activists from various disciplines and professions attended the function.