Martyred Intellectuals' Day observed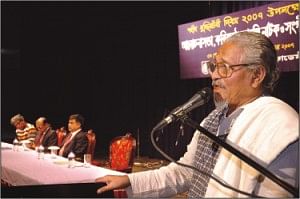 To mark the Martyred Intellectuals' Day, Bangladesh Shilpakala Academy (BSA) arranged a discussion and cultural programme at the National Theatre Stage of BSA on December 14. The cultural programme featured recitation, music and drama.
Noted playwright Professor Selim Al Deen and poet Asad Chowdhury spoke at the programme as special guests. Professor Syed Anwar Hossain was the chief guest at the programme. Director general of Bangladesh Shilpakala Academy, Kamrul Hassan ndc presided over the programme.
Poet Asad Chowdhury, Kazi Rozi, Samudra Gupta and others recited poems at the programme. Artistes of Bangladesh Shilpakala Academy rendered songs at the programme. Veteran Tagore singer Ajit Roy rendered Tomar ashimey pran.
The last presentation at the programme was a play. Theatre troupe Bongorongo Natyadal staged Maharaj, an adaptation by Martyred Intellectual Munier Chowdhury from British play Somthing to Talk About. His son Asif Munier directed the play.