KOICA to help implement rural dev project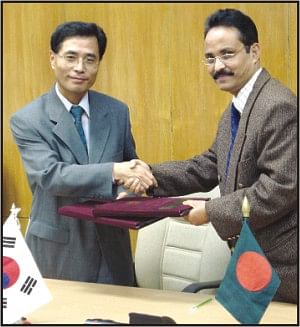 Korea International Cooperation Agency (KOICA) and the Economic Relations Division (ERD), Ministry of Finance, signed a Record of Discussions recently to jointly implement a rural development project, says a press release.
Kim Chang Sup, resident representative of KOICA Office in Bangladesh, and AM Badrudduja, joint secretary of the Economic Relations Division (ERD), signed the Record of Discussions on behalf of their respective governments.
The 'Integrated Community Development Project in Burichang Upazila of Comilla District in Bangladesh' will be implemented from 2007 to 2010 with the Korean government's grant of 3.50 million US dollars and the technical assistance of KOICA.
The main objectives of the project is to improve the socio-economic condition of the people of Burichang upazila through an integrated approach adopted from the Korean experience and to establish a unique participatory community development model for dissemination to other areas of the country.
KOICA, through this project, will mainly strengthen the community organisations of the targeted areas, supply farming machinery and equipments for assisting income generation activities and develop infrastructure such as community buildings, educational institutions, rural roads and water supply & drainage facilities.