Surge in Wood Prices in Local Market
Timber importers now turn to Africa, LatAm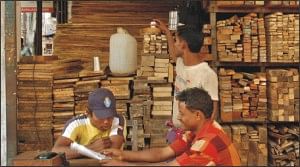 Importers and wooden furniture makers are now looking as far as Africa and Latin America to source timber in a bid to control the rising costs of wood in the local market.
"I have started importing from Ecuador due to the high price of Myanmar teak. I will also travel to Ivory Coast soon to find another source for the import of wood," said KM Akhtaruzzaman, president of Bangladesh Furniture Industries Owners Association.
Akhtaruzzman, who requires about 500 cubic feet of wood a day to run his factory, Akhtar Furniture, said supply shortage of wood has fueled its price both in the global and local markets.
The shortage has been caused by restrictions on the felling of trees in Bangladesh's own limited forests. This shortfall has traditionally been met by imports from Myanmar and Malaysia.
However, the restriction on raw wood export by the Malaysian government has hit imports hard, while the cost of Myanmar teak has become too high for Bangladeshi buyers.
These factors have forced some local importers to look at African and Latin American countries in order to ensure an improved supply, which they hope will help limit the present price rises.
Apart from Myanmar, importers are sourcing timber from Nigeria, Ivory Coast and Ecuador.
"I can save at about Tk 400 from each cubic feet by importing wood from African countries," said the owner of Akhtar Furniture and chief of furniture industries owners association.
Kazi Abul Kashem, owner of Bangladesh Timber, an importing firm in Chittagong, said, "Now we have to import Myanmar teak at a rate ranging from $1700 to $2000 per tonne (equivalent to 50 cubic feet). We paid earlier for the same teak in between $800-1200."
"We are looking for best possible sources. Any country we deem advantageous for our import, we import wood from that country," said Kashem, who has imported timber from Ivory Coast and Nigeria to narrow down costs.
Higher costs of Myanmar's quality teak have also forced some furnishers to stop its purchase.
"We have stopped buying Myanmar's teak due to abnormal rise in its prices," said Md Salim H Rahman, managing director of Hatil Complex, a furniture and door maker.
A survey of the timber market in Karwan Bazar area showed a sharp rise in prices of all types of wood, mostly imported.
Each cft of teak from Myanmar was found selling at over Tk 5,000, while Garzan was sold at over Tk 1200 per cft.
According to Md Asaduzzaman of Jalal Timber Traders & Saw Mills, the price of Myanmar teak was stable at Tk 3000 per cft at the beginning of the current year.
He said supply of local quality wood has been scarce for about two years due to the ban on felling of trees from natural forests.
When his attention was drawn to whether the huge trees uprooted by the recent cyclone Sidr can help source timber, Md Jamaluddin, manager of Diamond Saw Mills, said, "These trees are useless. They won't help improve the scarcity of wood."
The November 15 cyclone devastated the southwest coast of the country resulting in the damage of thousands of trees and standing crops and loss of over 3,000 lives..