Nat'l security, defence no longer depend on military power alone
President says at NDC graduation ceremony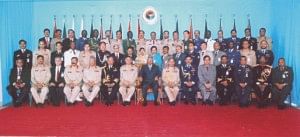 President Iajuddin Ahmed yesterday said national security and defence no longer depend on military power alone, but on the overall national power and capacity manifested in national development.
"As you know, the concept of security has been assuming newer and broader dimension with every passing moment at the 21st Century," he said at the graduation ceremony of National Defence Course and Armed Forces War Course at the National Defence College in Mirpur Cantonment.
The president said: "National security and defence no longer depend on military power alone, but the overall national power and capacity manifested in the level of national development."
He said the Defence Doctrine and War Fighting Strategy are developing day by day. "We must have a modern military in keeping with our strategic, demographic and national developmental imperatives."
Iajuddin praised the Armed Forces for responding to the call of the nation in protecting democracy and strengthening the hands of the government by providing their dedicating services.
He said the armed forces efforts in support of improving law and order, combating corruption, tackling disaster management, preparing voter ID cards and building infrastructures in remote areas are undoubtedly praiseworthy and they deserve appreciation from the nation.
The president expressed his firm belief that all these fine work by the Armed Forces, both in national and international arena, have been possible due to their utmost sincerity, dedication, patriotism, efficiency and above all, professional excellence.
He appreciated the governments of China, India, Myanmar, Nepal, Nigeria, Pakistan, Qatar, Sri Lanka, Saudi Arabia and Sudan for sending their officials for training at the National Defence College here.
A total of 24 officers - nine army officers having ranks of Major General/Brigadier Generals, three naval officers with ranks of Commodore/Captain, two air force officers with ranks of Air Commodore/Group Captain and eight officers from the civil administration with ranks of Joint Secretary - participated in the National Defence Course-2007.
Of them, seventeen officers from 10 foreign countries participated in the course.
Advisers of the caretaker government, Army Chief General Moeen U Ahmed, Navy Chief Vice Admiral Sarwar Zahan Nizam, Air Force Chief Air Marshal SM Ziaur Rahman, Principal Staff Officer at the Armed Forces Division Lt Gen Masud Uddin Chowdhury, President's Military Secretary Maj Gen M Aminul Karim and senior officers of the Armed Forces were present at the function.