Pakistan, Russia back Afghanistan at rare summit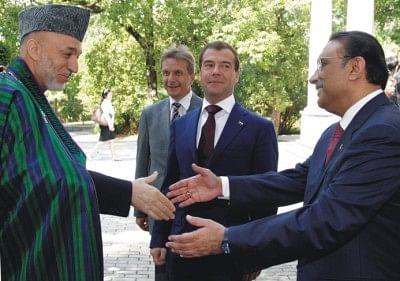 The presidents of Pakistan and Russia, two states with a history of difficult relations with Kabul, yesterday backed the Afghan government's fight against rebels at a rare summit meeting.
Russian President Dmitry Medvedev hosted Afghan and Pakistan counterparts Hamid Karzai and Asif Ali Zardari in the Black Sea resort of Sochi, its balmy shores a stark contrast from the battle with Taliban insurgents in Afghanistan.
Russia is still haunted by the Soviet Union's war in Afghanistan which cost over 13,000 Soviet lives and ended in a humiliating pullout in 1989 and has kept a wary distance from the troubles of Nato forces in the country.
But Medvedev assured Karzai of Moscow's full backing in a region where Russia has played a major role from the so-called "Great Game" against Britain in the 19th century to the present day.
"We support the fight of the Afghan government against terrorism and are ready to fully help in this direction," Medvedev told Karzai in a bilateral meeting before the full summit.
"We live in the same region -- this creates common problems and common prospects," the Russian president added.
Karzai thanked Medvedev for Moscow's support and invited him to visit his conflict-torn country. "Afghanistan will need the support of friends and great countries like Russia."
A Kremlin spokesman emphasised that Karzai's invitation was a polite gesture and such a trip by the Russian president to Afghanistan was not being planned for now.
Afghanistan meanwhile has consistently accused Pakistan's powerful intelligence agency of supporting Taliban insurgents, allegations furiously denied by Islamabad.
Zardari however told Medvedev the world should "stand together... We can do it, we can do it altogether. We should support the Afghan people."
Karzai's spokesman Siddiq Siddiqi told AFP that Karzai and Zardari met earlier in the day for a bilateral meeting, saying more details would be given later.
Also taking part in the four-way summit meeting is Tajikistan President Emomali Rakhmon, whose country borders Afghanistan.
Moscow had made clear it has no plans to send troops to Afghanistan but like several other ex-Soviet states has allowed Nato states to use its airspace for the transit of equipment.
The meeting is the second such four-way meeting of the heads of state, the first taking place in the Tajik capital Dushanbe in July 2009.
Medvedev's foreign policy advisor Sergei Prikhodko said ahead of the meeting that Russia would be interested in delivering helicopters to Afghanistan.