Barclays English Premier League
Less bling, more fight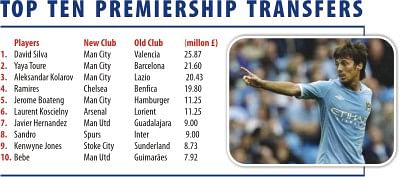 Four years ago, post World Cup 2006, the English Premier League was on the crest of a wave. Chelsea had just roped in Andriy Shevchenko, Michael Ballack, John Obi Mikel and in much protracted negotiations, Ashley Cole.
Over in East London, West Ham pulled off the biggest of all transfer coups, managing to secure the services of talented Argentinean duo Carlos Tevez and Javier Mascherano, both of whom had impressive World Cup campaigns. Elsewhere, Cristiano Ronaldo, tagged as the winker, strutted his stuff at the Theatre of Dreams and Xabi Alonso pivoted the Liverpool midfield.
English clubs had just been in two consecutive Champions League finals and all the stars chose wintry England over sunny Spain, as evidenced by Thierry Henry's decision to stay put at Arsenal following their Champions League final defeat against Barcelona.
Jose Mourinho was still the darling of the English press and Rafael Benitez's meticulous if unpopular methods were bringing success to a starving Anfield.
In short, things in England had never been better.
Fast forward to 2010 and there is the lingering feeling that the English boom has just about come to an end.
Shevchenko and Ronaldo are long gone, Ballack setting off on to the sunset. Xabi Alonso could not resist the overtures of Madrid and Javier Mascherano is pleading with Liverpool for a transfer. Mourinho is just a whimsical memory and Rafa has also set sail for Italy. As far as names are concerned, the Premier League is just about facing a dearth in quality. And it is showing in the results as well.
After having a finalist in five consecutive editions of the Champions League, last season was a landmark of sorts. Chelsea were admonished by champions Inter Milan while finalists Bayern Munich put paid to Wayne Rooney's Manchester United.
The press, the players, the fans are all worried; but the key question is: should they be?
Optimistically speaking, this may just be the shot in the arm that the Premier League needed. For all their talent and flash, most of the success in the Premier League was restricted to the top four clubs, so much so that the Premier League had been labelled as the 'Big Four versus the rest'.
And in the final two seasons of the decade, it had almost boiled down to a Big Two as Chelsea and Manchester United were often the only two left standing come spring. And as anyone will tell you, no one likes predictability (except perhaps the fans of the clubs being successful!)
With so many of the big clubs losing ground, the time is ripe for a new challenger to come to the fore and disrupt the monotony or better still, for a number of new challengers to arise and for once increase the competitiveness of the league.
Tottenham and Manchester City seem like the perfect candidates to break the oligopoly although there are still concerns about how Harry Redknapp's Spurs will cope with the added burden of the Champions League.
Manchester City though, are the biggest story and could well be for the rest of the year.
Roberto Mancini is at the helm but who knows for how much longer? The Citizens are on a different plane to the rest of the clubs, in England and Europe, with spending reaching unparalleled levels in these times of prudence.
Unfortunately though, for clouts sake, none of their names roll of the tongue, apart from Spanish World Cup winner David Silva. But who says that is a bad thing?
Yaya Toure is inexplicably the highest paid player in the league and that will always be an albatross around his neck. However it should not take away the fact that he is a fantastic midfield player who could add steel and resolve to the City midfield.
But the defence is where City have strengthened the most with two very interesting acquisitions: Jerome Boateng from Hamburg and Aleksander Kolarov from Lazio.
While Boateng's skills as a defensive all-rounder were on show during the World Cup, Kolarov's Serbia were dull. The left-back is however a precocious talent, with a fantastic left foot. And he can strike a dead-ball like few others.
Chelsea seem like emerging from their transfer shell with the wise capture of Brazilian midfield Ramires. Solid and unassuming Ramires is the perfect replacement for Ballack, a tactically astute player who can make others around him tick. The Blues are also seemingly in the frame for Neymar but that is one move that might not materialise.
Manchester United too have focused on young, upcoming talents. Javier Hernandez, the quick and strong Mexico forward, has arrived from Chivas and one-time homeless World Cup player Bebe is a total unknown endorsed by Carlos Quieroz. And if Rooney can keep up a modicum of last year's form, the title might be heading to Old Trafford this season.
Aston Villa have over the past few seasons threatened the big clubs on a timely basis but the departure of Martin O'Neill might signal the break-up of this talented bunch of youngsters. Randy Lerner needs to make some big decisions.
Elsewhere, Fulham have lost Roy Hodgson to Liverpool as the Reds have also roped in Joe Cole as a replacement for Yossi Benayoun, who went the other way. Birmingham and Bolton look solid as ever and mid-table safety beckons for them.
Arsenal though represent a conundrum. After managing to hold on to Cesc Fabregas, there is the lingering feeling that this might finally be the year for the Gunners. A talented squad peppered with some new faces and matured talismans like Andriy Arshavin will look to shake off their nearly-men tag. Mourane Chamakh, might be the final cog in the wheel.
However, the biggest story of the year, regardless of relegation might well be Blackpool and Ian Holloway. Tipped for relegation into the third tier at the start of last season, Ian Holloway's quirky outfit surprised all by winning the Championship play-off against Cardiff City to bring the Premier League back to this sleepy seaside town for the first time since 1971.
Holloway's quips and his promise to play like Spain will keep us entertained for the rest of season, even if they go straight back down as most predict.
But then again, stranger things have happened.
FIXTURES
(1400GMT unless stated)
Saturday
Aston Villa v West Ham, Blackburn v Everton, Bolton v Fulham, Chelsea v West Brom (1630GMT), Sunderland v Birmingham, Tottenham v Man City (1145GMT), Wigan v Blackpool, Wolves v Stoke
Sunday
Liverpool v Arsenal (1500GMT)
Monday
Manchester United v Newcastle (1900GMT)

---
Manchester United
United will be desperate to get back to the top of the tree and they too are sitting pretty much on what they have got with just Mexico striker Javier Hernandez coming in.
They ooze quality in every area and with a hopefully more settled defence this season they remain the benchmark.
Arsenal
Five years without a trophy is a long time for Arsenal fans who got used to regular silverware but the Londoners look short of depth in comparison with the top two. Keeping midfielder Cesc Fabregas was vital but the key to any success will be turning their endlessly neat approach play into more chances and goals.
Manchester City
Having bought their way to fifth place City have continued to spend more than all their rivals combined in a bid to mount a serious title challenge. Bucking the trend in the rest of the league with an estimated 80 million pounds spent so far, manager Roberto Mancini's biggest challenge will be trying to develop a settled side.
Liverpool
A terrible season that led to the replacement of coach Rafa Benitez with Roy Hodgson. Still capable of producing one-off great performances, particularly against the other big teams, Hodgson will need to find some consistency if they are to have any hope of ending their 20-year title drought.
Chelsea
Having ended Manchester United's three-year run of titles Chelsea, who also won the FA Cup, will start as favourites to retain the championship despite a low-key transfer summer.
In an effective swap deal Yossi Benayoun arrived from Liverpool with Joe Cole going in the opposite direction.