Back throws Bolt out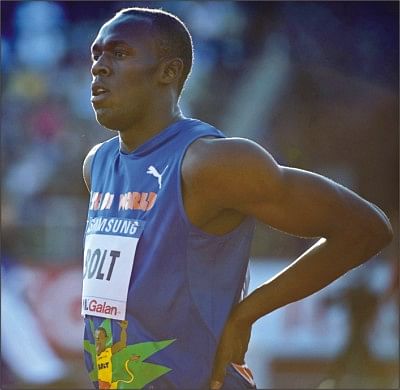 World sprint sensation Usain Bolt on Tuesday ruled himself out of the rest of the 2010 season because of a back problem that affects his striding power.
The Jamaican, who won gold in both the 100 and 200 metres at the 2008 Beijing Olympics and the 2009 worlds, and is world record holder in both events, suffered his first defeat in two years when beaten by American Tyson Gay in the 100m in Stockholm on Friday.
After that outing, Bolt underwent medical examinations and was told by Dr Hans Mueller-Wohlfahrt in Munich on Monday that he risked injuring his hamstring or calf if he continued to race with a tightness in his lower back.
According to Mueller-Wohlfahrt, that tightness restricts the Jamaican's ability to generate power in his stride.
Bolt has now withdrawn from the IAAF Diamond League meetings in Zurich and Brussels, the latter August 27 meeting tagged as a showdown between the Jamaican, Gay and former world record holder Asafa Powell, also of Jamaica.
Bolt's agent Ricky Simms said in a statement: "With a view to his future career we believe further treatment to loosen his back followed by a period of rest will be in his best interest.
"We are delighted to report that the MRI scan on his Achilles tendon showed that it has now completely healed."
Bolt added: "I am very disappointed to miss two of the top meetings on the circuit -- Zurich and Brussels -- but trust that it is better for me not to take any risks this year.
"2011 and 2012 are very important Championship years [with the worlds in Daegu and Olympics in London respectively] and I hope to be back fully fit and healthy.
"I would like to thank everyone for their support and look forward to coming back stronger next year," said Bolt.
The Jamaican, whose early season form was hampered by an ongoing Achilles problem, brings the curtain down on a summer during which he has clocked the season's joint fastest time in the 100m (9.82sec in Lausanne along with Powell) and fastest in the 200m (19.56 in Kingston).
In Stockholm last weekend, Gay clocked 9.84sec with Bolt in second in 9.97sec -- far from his world record mark of 9.58sec -- and left complaining about his lack of power.
Even Gay, the second fastest man in the history of the event, acknowledged that Bolt was not at peak fitness.
"I look forward to beating him when he is 100 percent," the American said at the time.
Bolt said: "I still need to work on my strength. The first 10 metres was crap. I had no power, no nothing. I have tried to work on it but it didn't work out."