'Protect wetlands'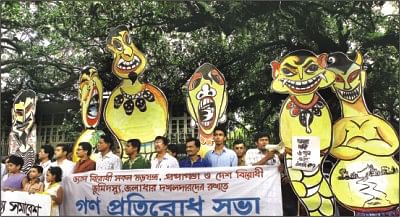 Different environmentalist organisations yesterday demanded protection of the wetlands and implementation of Detailed Area Plan (DAP) for the city.
They made the demand at a rally titled 'Monster Rally' in front of the fine arts faculty of Dhaka University.
They termed the grabbers of wetlands 'monsters' and held the rally carrying some effigies of monsters.
Speakers at the rally said all the wetlands of the city should be freed from pollution and encroachment. They also demanded punishment to the grabbers of wetlands.
Sammilito Joladhar Rakkhya Andolon organised the rally. Sayeed Munna of Sammilito Joladhar Rakkhya Andolon, general secretary of Pratyasha Helal Ahmed and chairman of Nirapad Ibnul Sayeed Rana spoke at the rally.