Gaan-e Gaan-e Gunijon Shongbordhona
Sabina Yasmin honoured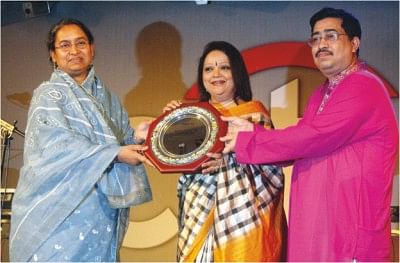 One of the leading artistes of the country, Sabina Yasmin, was honoured by Citibank N.A. at Utshab Hall of Radisson Water Garden Hotel on July 17. As part of the 'Gaan-e Gaan-e Gunijon Shongbordhona' programme, Sabina Yasmin was greeted with a standing ovation at the event. A legion of A-list artistes paid homage to Yasmin with special performances and moving words on her contribution to Bangladeshi music.
Citibank, N.A. country officer Mamun Rashid welcomed all at the event.
As the chief guest of the programme, Minister for Foreign Affairs, Dr. Dipu Moni, along with Mamun Rashid, felicitated Yasmin.
The singer received a crest and a portrait of her.
MC of the event, Sabah Azim (of Citybank) read out a biography of Yasmin. Sabina Yasmin's first playback was at the age of 13, for the film "Agun Niye Khela" directed by Zahir Raihan. She has recorded more than 10,000 songs so far. Yasmin completed her honours and masters from the Department of Sociology, Dhaka University. She is a recipient of Ekushey Podok, Swadhinata Podok, National Film Award (12 times) for playback and more.
In her speech, Dr. Dipu Moni said, "Our generation grew up humming the outstanding, melodious patriotic songs of Sabina Yasmin. Aside from providing banking services of an international standard, Citibank N.A. is honouring renowned personalities for their respective contributions to our culture. Quality is not encouraged in a country if the qualified persons are not recognised."
Sabina Yasmin said, "This day is very special to me. I've been awarded and honoured many times for my singing, but I don't recall being honoured as a 'gunijon.' Citibank's efforts will surely encourage artistes and cultural enthusiasts."
The late Nilufar Yasmin, Sohrab Hossain, Dr. Sanjida Khatun, Feroza Begum, Ferdausi Rahman and Farida Parvin have so far received this honour.
The first performance at the cultural programme was by Tagore singer Sadi Mohammad. Sadi opened his performance with the song "Esho Shyamol Shundor," a favourite song of Yasmin. Next he rendered "Pagla Hawar Badol Diney," an ode to monsoon.
Next on stage was adhunik singer Samina Chowdhury. Samina performed the first playback of her career, "Jonmo Thekey Jolchhi Mago." Amjad Hossain and Alauddin Ali wrote and composed the song respectively. "Eto Brishti," "Kobita Porar Prohor Eshechhey" and "Amar Majhey Nei" were the other songs she rendered.
Noted Nazrul artiste Ferdaus Ara made her homage to Yasmin through the song "Anjoli Laho Mor Sangeetey." She also sang a monsoon ballad "Shaon-o Raatey Jodi" and "Borosha Hritu Elo Elo."
Folk singer Kiron Chandra Roy performed "Pubali Batashey" followed by "Takdum Takdum Bajai Bangladesh-er Dhol" on the occasion.
The highlight of the evening was live performance by Sabina Yasmin. The diva sang two of her favourite songs on request from the audience. The artiste rendered a patriotic number "Ekti Bangladesh Tumi Jagroto Jonotar," written and composed by Nazrul Islam Babu and Ajit Roy respectively.
Her next performance was a tribute to the recently deceased actor and director Bulbul Ahmed. She rendered "Shoto Jonomer Shapno Tumi Amar Jiboney Eley," from the film "Rajlokkhi Srikanto" directed by Bulbul Ahmed. Ahmed also played the protagonist in the film. Dr. Abu Hena Mostafa Kamal and Alauddin Ali wrote and composed the song.
Zahid Hossain on keyboard, Moniruzzaman on banshi, Emon on lead guitar, Asad on bass guitar, Nirmol Kumar Das on dotara and Chandan Dutta on tabla accompanied the singers.