Apple mania unabated as fans scramble for iPhone 4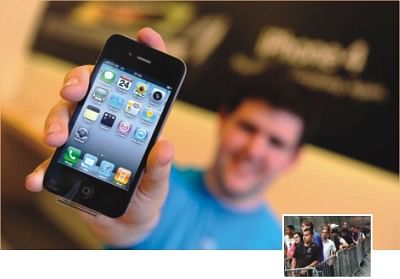 Apple fans queued overnight in their hundreds outside stores in Europe and Japan to snap up the latest iPhone, as the technology giant set a new benchmark in the hard-fought and fast-growing smartphone market.
The iPhone 4 makes possible video calls, can handle multiple tasks simultaneously and has longer battery life than previous versions -- adding specifications that some rivals already have to its iconic design appeal.
It sold a record 600,000 in pre-orders in a single day last week, and BGC analyst Colin Gillis expects Apple to set a record for being the first company to sell a million smartphones in a single day.
For the current quarter, which ends on Saturday, analysts expect Apple to sell 8-9 million iPhones, including sales of older models. Analysts expect Apple to ship 10 million or more a quarter, as output ramps up to meet demand.
Apple's latest salvo in the battle for the smartphone market, which IT research firm Gartner expects to grow 46 percent this year over last year's 172 million units, comes as rivals based on Google's Android software gather steam.
Analysts estimate that Android's 4 percent of the market last year will grow to 11 percent this year, while Apple's share is seen steady at 14 percent.
Still, Apple's cult status remains undented.
Queuing for an iPhone 4 outside the Apple store in San Francisco, 31-year-old Joseph Lobato said: "I haven't slept in 30 hours."
Meanwhile, top phone maker Nokia's smartphone strategy has faltered recently, while BlackBerry maker Research in Motion -- due to report results later on Thursday -- has been losing momentum.
In Paris, Apple aficionados began queuing at lunchtime on Wednesday for a midnight iPhone launch at France Telecom's flagship Champs Elysees store.
"I've heard a lot of good things about it. I couldn't resist any more," said Virginie, a 27 year-old marketing assistant and first-time iPhone buyer, and one of the few females queuing.
APPLE ADDICTS
In London, 27-year-old business consultant Alex Lee queued for 32 hours outside Apple's central London store. A Canadian who lives in Dubai, Lee made the trip just for the launch and said the queuing was as important as the phone itself.
The iconic phone has become Apple's main growth driver, and is expected to soon become its biggest source of revenue. Some analysts estimate that more than two-thirds of iPhone sales come from outside its home U.S. market.
The iPhone 4 is on sale in Japan, France, Germany, Britain and the United States from Thursday, and will be available in 18 countries in July and 88 by September in the quickest-ever international roll-out for an iPhone.