DAP now official
All recommendations find place on gazette notification; fate depends on implementation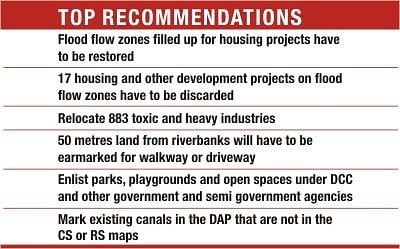 Despite Tuesday's government gazette notification approving the detailed area plan (DAP) for Dhaka City, certain errant land development projects are likely to remain unscathed due to legal loopholes.
The government issued the notification incorporating all recommendations of a six-member expert review committee headed by noted civil engineer Prof Jamilur Reza Choudhury, said Md Nurul Huda, chairman of Rajdhani Unnyan Kartripakkha (Rajuk).
The recommendations were aimed at protecting flood flow zones in and around the capital.
But now government high-ups are saying that they might have to take a softer stance in certain cases as the Town Improvement Act, Wetland Conservation Act, and DAP itself provide chances of appeal for violators, and discretionary authority for government high officials.
State Minister for Housing and Public Works Abdul Mannan Khan confirmed to The Daily Star the scopes of appeal for violators.
About plots developed in flood flow zones and sold to individuals by unauthorised land developers, the state minister said, "We will take a soft stance while dealing with such cases, and we might have to accept violations in certain cases."
"But we will enforce the law sternly in the worst cases of violation," he added.
Such acceptance of errant land use will be considered only in greater public interest, said Nurul Huda.
Prof Sarwar Jahan, president of the Bangladesh Institute of Planners, who was also a member of the review committee, however said if the government tries to accommodate projects which already have structures built, more people might be encouraged to take similar opportunities.
DAP covers 1,528 square kilometres of Dhaka Metropolitan City.
The recommendations of the review committee include abandoning seventeen housing and other development projects initiated by both the government and private entrepreneurs, and relocation of 883 toxic and hazardous industries from flood flow zones and undesignated locations.
The government projects recommended for abandonment include Jhilmil Housing Project's extension, Pangaon Container Terminal, BSCIC industrial area in Sonakanda of Keraniganj, waste dumping site of Dhaka City Corporation at Baliarpur in Savar, and Central Jail in Karaniganj.
The committee also recommended stopping creation of a proposed military training ground for 14 Shatantra Engineering Brigade in Keranigaj, as the site is in a flood flow zone.
The private housing projects in flood flow zones recommended for abandonment are Modhumoti Model Town, Eastern Mayakanon, Advanced Angel City, Ashulia Model Town, Dhaka Udyan, Bashundhara Riverview in Keraniganj, New Uttara Model Town, BDDL Natundhara, Neptune housing project, Swarnali housing project, Swadesh housing project, Probashi Polli housing project in Gazipur, Prottasha housing project in Tongi municipality area, Shotabdi housing project, and Adarsha Shikkhok Abashik project in Uttarkawndiya. Some of these projects are not even approved.
The projects which were taken up after Dhaka's master plan had been approved, but do not affect flood flow zones, the environment, and the livelihoods of local people will be allowed to remain untouched under a category titled 'overlay'.
But projects marked as non-conforming developments, have to move out over a period.
The review committee identified 2,724 light, general, heavy, and noxious industries and factories as non-conforming.
Light industries include weaving and tailoring; general are food manufacturing, textiles, leather, wood products, paper, and metal; heavy industries are manufacturers of chemical products, rubber products, ceramics, plastic, glass, steel, and pharmaceuticals; while noxious ones are dyeing, tannery, fertiliser, industrial chemicals, salt, and petroleum product manufacturers.
Of them, 709 heavy and 174 noxious industries must move out from their present locations, over a period of time, to designated industrial zones, said Prof Jahan.
The rest may remain as 'overlay', as those are not environmentally very hazardous, he said.
Consultants hired by Rajuk submitted a draft of DAP in 2008. But urban planners, architects, and environmentalist groups vehemently opposed it, saying, it was grossly flawed with recommendations for accommodating housing projects based on earth-filling of flood flow zones.
Following the outcry, a 17-member review committee, headed by Prof Jamilur Reza Choudhury, was formed in January last year to find out the planning anomalies in the draft. Finally the six-member committee also headed by Prof Reza made final recommendations that were incorporated in DAP.
In absence of DAP on time, the city's topographic landscape, natural environment, wetlands, flood retention basins, and open spaces have been destroyed recklessly over the past decade, said urban planners.