Reliance unveils big push into power sector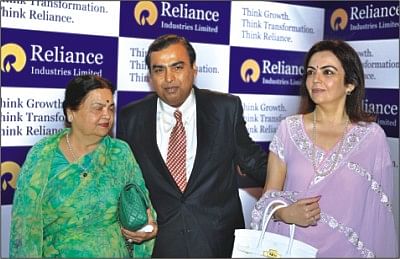 Mukesh Ambani's Reliance Industries recently freed from a pact that banned it from competing with his brother's firms, unveiled a push into the power sector that gave little detail at a hotly anticipated shareholder meeting.
Ambani, 53, has been avidly pursuing entry into markets that his younger brother, Anil, 51, is in, ever since the long-estranged siblings ended their agreement last month not to compete directly with each other.
Mukesh told Reliance Industries shareholders the end of the agreement opened up possibilities in a power sector that provided "unbounded opportunity".
However, investors were disappointed that Mukesh, the world's fourth-richest man, did not announce more specific plans and that Anil was not in at the meeting.
"People had built unrealistic expectations that there would be big-bang announcements at the meeting," said Tejas Doshi, head of research at Sushil Finance in Mumbai.
Reliance shares, which had gained as much as 1.7 percent ahead of the meeting, ended 1.5 percent lower, underperforming the BSE Sensex.
While many equity analysts welcomed the diversification plan, some portfolio analysts said Reliance Industries should stick to its main oil and gas business.
"I would rather see them spending to buy oil assets than going into other areas," said Helsinki-based Taina Erajuuri, a portfolio manager at FIM India, which manages $150 million of Indian stocks, including Reliance Industries.
Anil's Reliance Communications, Reliance Natural Resources Ltd and Reliance Power, with which Mukesh will be competing, also skidded and were the most active large stocks on the Bombay Stock Exchange.
Reliance Industries recently made a dramatic return to the telecom business with the $1 billion acquisition of Infotel Broadband, the only company to win a nationwide licence for broadband wireless spectrum in a government auction of three licenses.
The Times of India reported on Friday that Reliance Industries was in talks to buy the tower and fibre optics units of Anil's debt-strapped Reliance Communications, which closed down 3.6 percent.
Reliance is also keen to enter the financial and health sectors, sources have said.
Mukesh Ambani also said the company planned to expand its presence in the U.S. shale gas business, build a coke gasification facility in India, and expand its retail business.
The energy-based conglomerate plans to bid for so-called ultra mega power projects -- those exceeding 4,000 megawatts -- in India, he told shareholders after arriving at the meeting with his wife Nita and mother Kokilaben.
BROTHERLY HARMONY, BUT NO DEAL
Ambani said he looked forward to a constructive relationship with his brother's Reliance ADAG group, and was ready to provide it with natural gas. The brothers split their father Dhirubhai's empire five years ago after disagreeing over ownership.
However, he did not say anything about a new gas deal with his brother, sending shares in Anil's Reliance Natural Resources down 7.5 percent.
The Supreme Court said in May the brothers had until this week to renegotiate the terms of their gas supply agreement and to abide by the government's price, which is nearly double the price they had agreed on in 2005.