Mobile operators rope in 2m more customers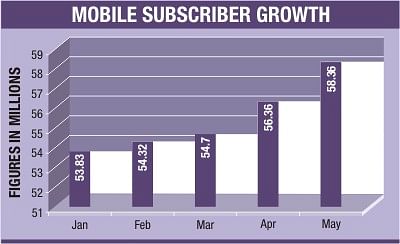 Bangladesh's six mobile phone operators added two million new customers in May.
The number of new customers acquisition marked an uptick, as most operators slashed their connection prices. Each SIM (subscriber identity module) of different operators now range between Tk 99 and Tk 149 in the market.
"New customers increased as maximum operators offered lower price for each SIM," said Zakiul Islam, president of Association of Mobile Telecom Operators in Bangladesh.
He said the operators subsidised the Tk 800 SIM tax on behalf of the customers. However, he said, if SIM tax goes, operators can use such amount of money for network development, especially in the untapped rural areas.
Operators are used to subsidise the SIM tax. But in May maximum operators came up with lower price package for a certain period of time as they expected a budget proposal for SIM tax cut. However, SIM tax remains the same, as the 2010-11 budget had not proposed any change in this regard.
According to Bangladesh Telecommunication Regulatory Commission statistics, Bangladesh's mobile customers reached 58.36 million as of May, 2010 from 56.36 million in April.
Grameenphone added one million customers in May, the highest addition in the market.
The company's customers in May reached 25.55 million.
Banglalink is the second highest. It added 0.65 million customers in May to reach a 15.59 million subscription in May.
Robi's customer base touched 10.96 million in the month, with a 0.14 million addition.
The fourth largest operator Warid added 0.05 million while Citycell added 0.1 million and Teletalk 0.06 million in the month. The total number of Warid reached 3.08 million in May, while Citycell's 1.99 million and Teletalk's 1.19 million.