Jute genome decoded
Golden fibre to become healthy, high yielding, weather-tolerant; Hawaii-based Bangladeshi scientist leads team to landmark discovery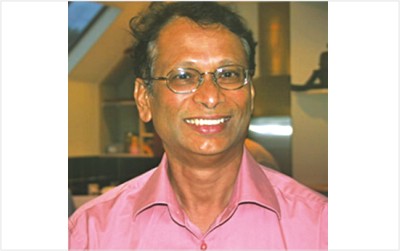 Bangladeshi researchers have successfully decoded the jute plant genome opening up a new vista in the development of variety of the world's most adorned biodegradable natural fibre.
Experts said this gene sequencing would help improve the fibre length and quality, including colours and strength; and develop high yielding, saline soil- and pest-tolerant jute varieties through genetic engineering.
With the successful sequencing of jute genome, Bangladesh becomes only the second country after Malaysia, among the developing nations, to achieve such a feat.
Prime Minister Sheikh Hasina made the announcement of Bangladesh's scientific achievement in the parliament yesterday amid cheers and desk thumping by lawmakers.
Researchers from Dhaka University, Bangladesh Jute Research Institute and Software Company DataSoft in collaboration with Centre for Chemical Biology, University of Science, Malaysia and University of Hawaii, USA have decoded the genome.
Bangladeshi scientist Maqsudul Alam, a professor of the University of Hawaii, who earlier decoded the genome of papaya in the US and rubber plant in Malaysia, led from the forefront in sequencing the jute genome.
Maqsudul told The Daily Star over telephone yesterday evening, "This is a great accomplishment not only for Bangladesh but for the whole world." He refused to comment any further saying there would be a formal address to the press today (Thursday).
Dubbing it a historic scientific advancement, Sheikh Hasina told the parliament this would redeem the lost glory of the "golden fibre" as gene mapping of jute would now help breeders develop jute varieties resistant to pests and climatic adversities.
She said genome sequencing would help redeem the lost glory of our jute and jute products, immensely contribute to our economy and help transform jute fibre into the golden fibre and bring smiles to millions of jute farmers.
Jute genome sequencing initiative began in February, 2008 when Maqsudul started exploring the possibilities with several Bangladeshi scientists and academics. The whole process was kicked off with many long conference calls between Maqsudul and plant molecular biologists, Prof Haseena Khan and Prof Zeba Seraj of the Department of Biochemistry and Molecular Biology of Dhaka University. Then the lead researcher had several meetings with Agriculture Minister Matia Chowdhury.
Genome sequence represents a valuable shortcut, helping scientists find genes much more easily and quickly. A genome sequence allows scientists identify and understand how genes work together for the plant's different features like growth, development and maintenance as an entire organism. This allows them to manipulate the genes and enhance, reduce or add certain features of the plant.
Contacted, Zeba Seraj of DU told The Daily Star, "As against three billion genetic letters in human genome, jute has one billion. And sequencing of jute genome will open up a new vista of possibilities."
Jute is the second largest fibre crop in terms of cultivation next to cotton. Bangladesh is the world's second-largest producer of jute, after India, and the world's largest exporter of the fibre.