South Africa 2010 FIFA World CupPreview
In search of maiden win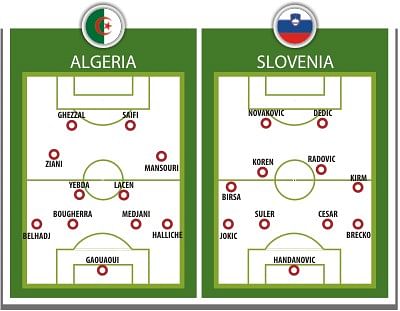 Slovenia coach Matjaz Kek has said tension and anxiety are simmering in the team's camp ahead of their opening Group C match against Algeria in Polokwane on Sunday.
The Slovenians are looking for their first win in their third major tournament, having failed in Euro 2000 and the 2002 World Cup, and Kek conceded his players were nervous in what they see as a vital game.
"Tension and anxiety are creeping in but I think it's a good sign because it shows the players are operating like a team, unlike in the 2002 tournament when they were at loggerheads with each other," Kek told a news conference after Friday's practice.
"It is imperative to get off to a good start and while it would be unfair to talk about Algeria's weaknesses, I can say my staff and I have detected them and we are confident that we can chalk up three much needed points.
"Whatever happens in this World Cup I can guarantee that this crop of players will return home as a unit."
Kek promised in the build-up to the tournament his team would take risks to play entertaining football but striker Zlatko Dedic, whose goal in a 1-0 win over Russia sent Slovenia through to the finals, said the players had other ideas.
"Winning the opening game would open the door to the last 16 and we don't care how we do it, as far as I am concerned we can win all three group matches 1-0 with our goalkeeper Samir Handanovic being the only scorer," he said.
"We are fully focused on the opening match but we are also looking at the big picture in our group because reaching the knockout stage has to be our goal if we beat the Algerians."
Algeria meanwhile have suffered a double injury blow ahead of the match.
Striker Rafik Djebbour was ruled out of the match with a foot injury while captain Anther Yahia suffered an ankle injury and is considered only 50/50 to play in what will be Algeria's first appearance at the finals since 1986.
Djebbour, who will probably be replaced in the starting line-up by Abdelkader Ghezzal, suffered the injury in training on Thursday and aggravated it on Friday, a source inside the Algerian camp told AFP.
Yahia underwent x-rays on Friday after he fell awkwardly going for a header during the training session and he is likely to be replaced by either Abdelkader Laifaoui or Carl Medjani.
Yahia's absence would be a huge blow to the Algerians not only for his leadership but also his goalscoring ability, it was his goal that got Algeria to the finals in their 1-0 play-off victory over six-time African champions Egypt.
THE KNOWLEDGE
Rafik Saifi, Antar Yahia and Karim Ziani scored three goals each for Algeria in their World Cup qualifying campaign.
Slovenia qualified after defeating Russia on away goals following a 2-2 aggregate tie.