Mother, two children found dead
Police suspect 'suicide'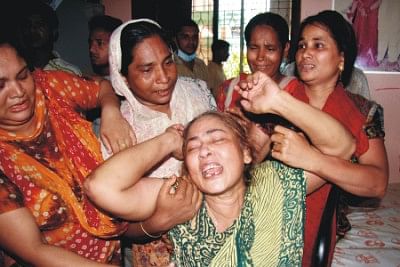 A woman and her two children were found dead in their house in the capital's Jurain area yesterday.
Farzana Kabir Rita, her 12-year old son Ishrat Kabir Pabon and 10-year old daughter Raisa Rashmi Payel might have committed suicide by taking sedatives, said Towfique Mahbub, deputy commissioner of Wari Division.
Zinnat Ara, who works as house help in their residence, said when she entered the house to work at about 10:30am yesterday, she found the three lying on a bed.
She tried to wake them up but none of them responded. Then she rushed to Rita's uncle, who lives in a nearby house, the maid said.
Rita's elder sister Mita Akhter said Rita had an affair with businessman Rashedel Kabir and got married about 18 years ago.
She said the relationship between Rita and her husband Rashed got strained after Rashed's second marriage with her cousin Smriti.
They had lived together on the first floor of the three-storey building in New Jurain for about 12 years. But Rashed moved to a house in Banani with Smriti about one and a half months back, said Mita.
Rita's parents-in-law and sister-in-law live on the ground floor of the same building. They left for their ancestral home a few days back and were not available for comments.
Neighbours said they found Rita and her son Pabon, student of class VII of Mastermind School and daughter Payel, student of class IV, lying on a bed.
Payel and Pabon wrote on the walls of three rooms of the house that they decided to commit suicide due to inhuman behaviour of their father, grandfather journalist Shafiqul Kabir, grandmother and aunt Sukhon Kabir.
DC Towfique said Rita and her daughter Payel left two letters saying they were going to commit suicide by taking sedatives.
"In a letter, Rita blamed her husband Rashedul Kabir and cousin Smriti for their deaths while in another her daughter Payel put the blame on her father, grandparents and an aunt," the DC said.
The DC said Payel mentioned that they bought the sedatives through their driver Al Amin.
"We are trying to arrest Rashed. A case will be filed under Women and Children Repression Prevention Act as they were motivated to commit suicide," he added.