The sky, the mind, the ban culture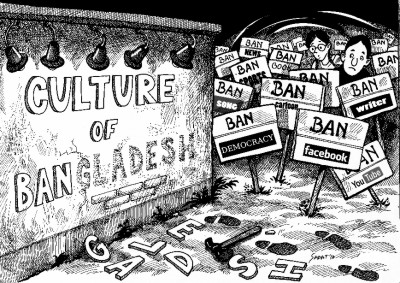 THE ban on Facebook could be lifted within days. Or perhaps by the time you read this in print, it might already have been withdrawn. But that is not what exercises our minds at this point. What we are upset about is the brusqueness with which the attack on Facebook was made. Of course, if there is anything obscene that has appeared on it, if the reputations of citizens, powerful or meek, have been ridiculed, all that the authorities needed to do was to go after those who indulged in such nefarious deeds. But to assume that an entire system can be done away with or simply run out of town only rekindles in us all the old thoughts of bygone rulers trying to govern us through control mechanisms that eventually did not amount to much. Control led to chaos. The mechanisms broke down.
The trouble with the post-modern era is that you cannot have all your wishes come true. All this technology around you is really daunting. More importantly, there is the matter of citizens' increasingly powerful sensibilities coming into play. Think back on the Tagore centenary celebrations in 1961 here in this land. Much effort was put into the job of trying to disrupt the proceedings by the Ayub Khan regime because it and its toadies believed Bengalis were actually celebrating the genius of a Hindu bard. Nothing worked for the regime, though. The presence of Justice Syed Mahbub Murshed at the head of the Tagore programme warded off the sinister shadow of the regime. The wolves then lay low, until the time came a few years later when Khwaja Shahabuddin, Ayub's information minister, finally clamped a ban on Tagore music in East Pakistan. That victory proved pyrrhic, though. By the late 1960s, Tagore was back and with him, with Bangabandhu Sheikh Mujibur Rahman in the forefront, Bengali nationalism was in the ascendant.
Banning has never been a solution to a problem. It has been a problem on its own. Look at the record. Military regimes in Bangladesh and Pakistan, having shot their way into power, have gone for imposing a ban on or a suspension of the constitution. That act was speedily complemented by restrictions on the way women would move around. It is rather curious that one of the first things coup-makers do is push civilised laws under the carpet and go for an inspection of female anatomy, in the latter instance, eventually deciding what women should be wearing or not wearing. Well, as history informs us so gleefully, constitutions have always come back and women have certainly refused to have their couture chosen by soldiers propping up illegitimate governments. Usurper regimes have gone for a ban on politicians and political parties. Yahya Khan thought banning the Awami League in 1971 would resuscitate a dying Pakistan in our lives. In the event, the Awami League only made sure that Pakistan was banned in Bangladesh for all time in December 1971.
There is something about the mind that rebels, always. When you ban a book, you are not only stifling intellectual freedom but also you are, at the same time, provoking people into wanting to read it. It is then that clandestine ways are discovered for the book to be distributed to as wide a circle as possible. You can threaten a writer with beheading; you can force a writer into exile. But do not forget that such ham-fisted measures only make the writer that much more appealing and readers that much more demanding. You can come up with all the excuses you can muster about the absence of moral dimensions in a movie and then clamp a ban on it. Once you do that, you are helping in the creation of an insular world for yourself. Insularity, you will of course remember, was what brought down apartheid South Africa and white minority-ruled Rhodesia.
There is a certain degree of arrogance which comes with banning. Turkey's generals, for all their appreciable role in upholding the country's secular traditions, made the mistake of arguing that women could not wear headscarves. The consequence was defiance. Watch the wife of President Abdullah Gul. She never lets go of her headscarf. And like her, other Turkish women have taken to ignoring the scowl of the army. Just as the state cannot decree what raiment people can get into, individuals or groups of individuals cannot and must not insist that a particular sect of believers be proscribed as a faith. You can observe your religion in all its totality, but you cannot turn it into a weapon to intimidate adherents of other beliefs. In much the same way, you cannot be self-righteous about your politics and then use it to hunt down people and destroy their reputations on spurious charges of treason. If you do, you will find the guillotine waiting for you. Do not forget America's Joe McCarthy.
The mind is certainly wider than the sky. You cannot outlaw the sky, can you? Why must you then try putting the mind in fetters? Why not ban the ban culture itself?
Syed Badrul Ahsan is Editor, Current Affairs, The Daily Star.
Email: bahsantareq@yahoo.co.uk.