South Africa 2010 FIFA World Cup
Ivory Coast, France draw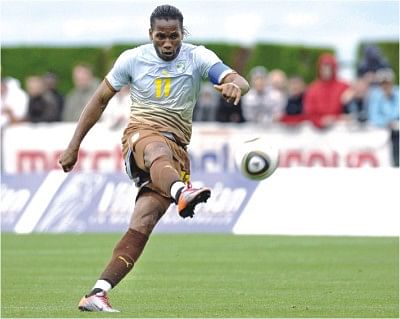 Former England coach Sven-Goran Eriksson was denied a winning start with his Ivory Coast team when Paraguay scored twice in the last 15 minutes to draw 2-2 in France.
Didier Drogba gave the Elephants the lead and Eriksson looked set to celebrate a win when substitute Souleymane Bamba made it 2-0. But Lucas Barrios scored and Aureliano Torres snatched a last-gasp equaliser with a deflected free kick.
Oddly, the match was played on a ground not considered fit even for French second division soccer.
Adding colour, the Ivory Coast players turned out in light blue shirts and chocolate shorts and socks, looking rather as if they had waded through mud before taking the field.
In Tunisia, France were indebted to a 63rd minute goal by William Gallas which enabled them to salvage a draw.
Tunisia opened the scoring on five minutes through forward Issam Jemaa but France, still adapting to the new, 4-3-3 system they had introduced in a 2-1 win over Costa Rica on Wednesday, improved gradually.