Get cops to stop river pollution
HC also asks govt to explain why all sewer lines into river should not be sealed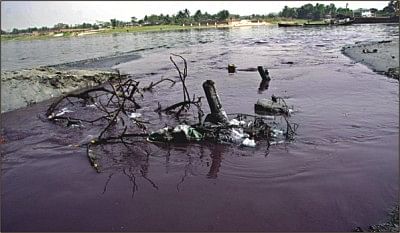 The High Court wants the government to police the banks of the Buriganga to stop disposal of waste into the river.
It yesterday directed the authorities to deploy police along the river banks immediately.
It also ordered them to form a committee to monitor the law enforcers' actions with regard to waste-dumping and submit a report within four weeks.
Chairman of Bangladesh Inland Water Transport Authority (BIWTA), director general of the Department of Environment (DoE) and deputy commissioner of Dhaka were asked to form the monitoring committee, drawing representatives from the district administration, BIWTA and DoE.
In a rule, the court also asked the government to explain within four weeks why it should not be directed to seal all sewers emptying into the Buriganga to stop water pollution.
It ordered the government and police administration to explain why their "inaction to stop pollution of Buriganga should not be declared illegal and without lawful authority".
The bench of Justice Md Mamtaz Uddin Ahmed and Justice Naima Haider came up with the directives and the rule after hearing a writ petition filed by Human Rights and Peace for Bangladesh (HRPB), a human rights and green organisation.
Respondents to the HC directives and the rule are shipping and home secretaries, managing director of Dhaka Water Supply and Sewerage Authority, chairman and director of BIWTA, DG of DoE, commissioner of Dhaka Metropolitan Police, DC of Dhaka and officers in charge of Kotwali, Hazaribagh, Lalbagh, Kamrangirchar and Demra police stations.
HRPB Secretary Asaduzzaman Siddiki filed the public interest petition seeking immediate steps to prevent water pollution in the Buriganga.
In his petition, he cited The Daily Star's April 25 report headlined 'Untreated waste dumped into Buriganga'.
He said a disaster is not far off if measures are not taken to improve the city's sewerage management. Priority should be given to stopping dumping of chemical waste and sewers flowing into the river.
During hearing yesterday, petitioner's counsel Manzill Murshid said millions of Dhaka city dwellers depend on the Buriganga for supply of water.
But hundreds of metric tons of untreated waste including chemical effluent from Hazaribagh tanneries are dumped into this river every day.
He argued that the level of pollution has been so alarming that the Buriganga water has lost its colour and quality.
Manzill said the polluted water is posing serious health hazard to people living in the capital.
The respondents are public servants and thus legally and constitutionally bound to ensure safety of people's lives. But they have failed to do so, added the petitioner's counsel.
Deputy Attorney General Mostafa Zaman Islam represented the state side.