No letter from UN, no int'l interference
Outgoing resident coordinator Renata tells The Daily Star about post-emergency rumour in 2007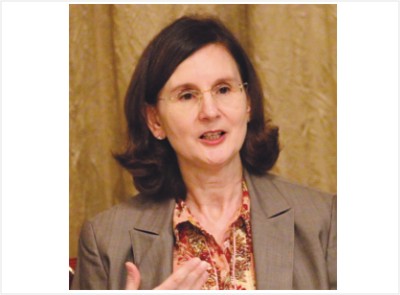 International community did not interfere in any way and the UN did not send any letter that apparently led to the postponement of January 22, 2007 election and declaration of state of emergency, said outgoing UN Resident Coordinator Renata Lok Dessallien.
"International community including the UN did not interfere in Bangladesh's internal affairs...our only concern was to create a congenial atmosphere conducive to holding a free, fair and impartial election," she said in an interview with The Daily Star.
She categorically said the UN did not send any 'special letter' to the then Bangladesh government. "There was no interference. There was continuous urge for accommodation," she added.
Renata, who is going to take up her new assignment in China after more than a three-year eventful tenure in Bangladesh, did not agree with former Army Chief General Moeen U Ahmed's contention that Bangladesh Army personnel would have lost jobs in the UN peacekeeping mission if the army had played any role in the general election originally slated for January 22, 2007.
"This was never discussed," Renata added.
The former army chief in his book "Shantir Swapne" (Dream for Peace) said he received a phone call on January 11, 2007 from UN Under Secretary General for Peacekeeping Guehenno who told him that the elections without participation of all political parties would not be acceptable.
"If the army plays any role in such elections, the UN will consider with due importance the withdrawal of Bangladeshi armies from the UN peacekeeping missions," Moeen quoted Guehenno as saying over the phone.
Renata said the UN secretary general expressed his concern over street violence on several occasions including those in October 2006 and early 2007.
She said several missions of the UN electoral specialists visited Bangladesh while the secretary general appointed a personal envoy who visited Dhaka in December 2006.
The envoy had meetings with major political parties and urged them repeatedly to hold dialogues, to be accommodative and to find a solution that both political alliances could accept.
"Telephone calls from high level UN officials to Dhaka were made to try to defuse the rising tensions so as to allow more space and time for the parties to negotiate an acceptable solution," Renata said.
The UN official said when the UN secretary general and any UN staff makes any statement, the copy is sent to the respective governments ahead of the issuance of such statements to the press according to international practice.
Asked about separate meetings of western diplomats with senior Awami League and BNP leaders at the residence of the Canadian high commissioner on January 11, 2007, Renata said the meeting with the BNP leaders was dispersed in the afternoon as the news of declaring the state of emergency had been circulated by that time.
She said the main message of all these statements and meetings were to resolve the issue through dialogue and in non-violent fashion.
When asked about the performance of the Fakhruddin Ahmed's Caretaker Government, Renata said, "we focused on elections but general criticisms were that the government was doing too much and it had broad agenda."
Renata recalled a number of impediments like two floods, cyclone, food crisis in the wake of price hike of food and oil in the international market and spread of avian flu. It is difficult for a caretaker government with 10 advisers to deal with all these problems, she continued.
Terming Bangladesh a complex country, she said, "Managing a complex country like Bangladesh, I think, is even more difficult. Each government faces challenges to implement its policies."
Asked about the performance of Awami League government Renata said the Bangladeshi people have to evaluate it. She said energy is a big challenge while population is increasing. Each year there is bigger crisis in energy sector, she said, adding that it will take time to resolve the problem.
Explaining UN's position on the trial of war criminals, she said the UN has received a request from Bangladesh government for information about how war crime tribunal operates in the context of other countries.
The UN has responded positively as we consider it important to share lessons of international experience with Bangladesh authorities in order to help them meet international standard, she said.
Renata, however, said the UN has not been asked for any other form of assistance in connection with Bangladesh 's war crime trials, nor has it offered any additional assistance.
Asked about her farewell meetings with Prime Minister Sheikh Hasina and Leader of the Opposition Khaleda Zia, Renata said the energy and water shortages as well as other challenges like food security and disaster preparedness were discussed.
Renata stressed the need for strengthening democratic institutions to deepen democracy in Bangladesh and said since parliament is one of the most important institutions in any democracy all parties should sit in parliament and put their different agenda on the table for constructive debates.
She highly appreciated the formation of the parliamentary standing committees during the first session where chairs of the seven committees were given to other political parties. She also welcomed BNP's return to Jatiya Sangsad ending their long boycott
Expressing her firm conviction that Bangladesh has a bright prospect, the UN official said the country has demonstrated its remarkable capacity to overcome crises -- from the War of Independence to repeated floods and cyclones, to food security and many more areas.
"I do not minimise the very real and pressing problems that currently face the country…. all that's required is the strengthening of good governance. The key is already in the hands of decision makers. If their time and energy is spent in patronage pursuits serving special interest groups or individual interests, overall social progress will be sub-optional and beset with setbacks," she added.