Obama presses world to lock down nuke materials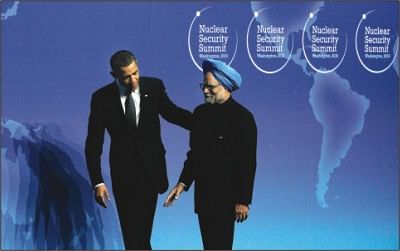 US President Barack Obama told world leaders yesterday to agree on locking down atomic bomb materials to prevent the "catastrophe" of nuclear terrorism.
"Today is an opportunity, not simply to talk, but to act," Obama said. "Not simply to make pledges, but to make real progress for the security of our people."
Obama was addressing the leaders of 46 nations on the second day of the summit in Washington, the biggest summit hosted by a US president in more than six decades.
The US president wants the world's military and often loosely guarded civilian stockpiles of uranium and plutonium to be accounted for and secured within four years.
Saying that terrorists could kill thousands with radioactive material just "the size of an apple," Obama warned that talk was not enough.
"Terrorist networks such as al-Qaeda have tried to acquire the material for a nuclear weapon, and if they ever succeed, they would surely use it," he said. "It would be a catastrophe for the world."
Leaders at the summit were expected to issue a joint communiqué pledging coordinated action on locking down the world's nuclear stockpiles.
On Monday, ex-Soviet Ukraine gave Obama's initiative a relatively small, but concrete boost by pledging to surrender all its weapons-grade uranium. Canada announced a similar plan, as had Chile earlier.
The two-day gathering also saw Obama meet Monday with Chinese President Hu Jintao for talks on Iran's nuclear program, which Washington says is masking a secret bomb-making drive.
French President Nicolas Sarkozy, who is in Washington, said meanwhile that his country could never give up its nuclear weapons "on a unilateral basis, in a world as dangerous as the one in which we live today."