SRL Cosmos Trawl shores up deep-sea fishing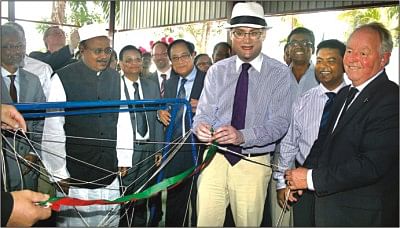 Deep-sea fishing entity Sea Resources Group launched its netloft unit -- SRL Cosmos Trawl Ltd -- in Chittagong yesterday to make nets and modern fishing gears locally and transfer western fishing technology to the Bay of Bengal.
Sea Resources Ltd (SRL) of Bangladesh and leading Danish fishing gear expert Cosmos Trawl have set up the fishing gear company at a cost of $60 million under a joint-venture.
Danish Minister for Development Cooperation Soren Pind was the chief guest at the launching ceremony at Isanagar in Karnaphuli where Chittagong City Corporation Mayor ABM Mohiuddin Chowdhury and Danish Ambassador to Bangladesh Einar H Jensen were special guests.
SRL Cosmos Trawl Chairman A Rouf Chowdhury, also the chairman of the country's pioneering fishing company Sea Research Ltd, presided over the function, also addressed by SRL Cosmos Managing Director Lars Jensen.
Danish Minister Pind lauded the joint efforts that he said will create a one-stop-shop for state-of-the-art fishing gear technology, service and equipment to help modernise fishing and add value.
The cooperation between Sea Resources and Cosmos Trawl aims at developing new business opportunities and contributing to growth and employment -- one of the main priorities in the new policy for Danish development assistance, Pind said.
He said some 12 Danish companies within energy and clean technology are in Dhaka now to look for new business opportunities after 21 Danish companies came to Bangladesh in November last year to tap into shipbuilding and fisheries.
SRL Cosmos Trawl Chairman A Rouf Chowdhury said the new joint-venture company will manufacture nets and fishing gears at cheaper rates, and offer all types of fishing equipment such as bottom and shrimp trawls, semi-pelagic and pelagic mid-water trawls and purse seine.