New Zealand v Australia, 1st Test, Wellington
Clarke clears the air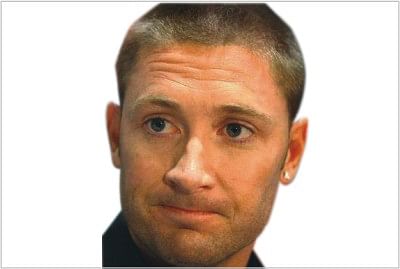 Michael Clarke has spoken publicly for the first time since his sudden departure from Australia's tour and his subsequent break-up with Lara Bingle. Clarke fronted a packed media conference at Wellington's Westpac Stadium, where he mentioned the support he had received from Shane Warne and insisted the media frenzy following him and his former fiancée would not affect the focus on his cricket.
"I have spoken to Warney," Clarke said. "I've spoken to a lot of my friends and my family. He's been a wonderful friend of mine for a long time and he was excited to see me back in New Zealand and wished me all the best for Friday's Test match."
Clarke made a hasty exit during Australia's one-day series when he flew back to Sydney to deal with his relationship issues, which were followed intensely by the Australian tabloid press. About 30 members of the media, some of whom will return home before the Test begins, surrounded Clarke but he said he was solely concentrating on preparing for the game.
"I made the decision firstly to go home but then to come back to New Zealand knowing that there was a big Test match starting on Friday," he said. "I knew I'd be capable to get up for that. Preparation has been very important to me throughout my whole career and it's no different now. Yesterday it was important to get back in the nets and have a good bat, see that red ball."
Being back in the team environment will no doubt be a welcome change for Clarke, who over the past week and a half has woken to see photographers and TV cameras trained in on his Sydney apartment, waiting for any glimpse of him or Bingle. Clarke said he never expected there would be so much interest in his personal life but accepted it was an inevitable part of being a high-profile sportsman.
"It's part of what we do," Clarke said. "Being a professional athlete it's not just about what you do on the field it's what you do off the field as well. We have to accept that and for me it was important to do what I had to do in my personal life and it's important for me now to be back with my team-mates and make sure I'm concentrating on playing a Test match for Australia.
"[Going home] was obviously something that I thought was very important and needed to be done and I did that. My team-mates were fantastic and very supportive. Cricket Australia, the ACA, all my friends and family have been wonderful. That's obviously why I'm back here now, trying to get out there on Friday and perform in Australia."
Clarke said he would "have to wait and see" if his opponents tried to distract him from the game with a few personal sledges come Friday.
The New Zealand fast bowler Chris Martin said on Tuesday that he hoped the players would treat Clarke with respect, but Clarke expected at least the crowd at the Basin Reserve would get stuck in to him.
"I'm sure I'll get a little bit of stick [from the crowd] but I don't mind that," Clarke said. "No matter where you go around the world, every country wants their team to win and do well, so we'll wait and see what happens on Friday but I don't think that will affect me too much.
"I've copped a fair bit of sledging in my time, whether it be about stuff on the field or off the field. We'll just have to wait and see [if the players will sledge]. But I have the utmost respect for the New Zealand guys and I'm sure they're the same so we'll play it by ear, but I'm sure it won't affect me."