Celebrities flee, homes gutted as wildfire ravages Malibu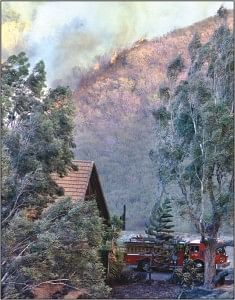 Hollywood stars were among thousands of people who found themselves homeless yesterday after wind-driven wildfires gutted nearly 50 multi-million dollar homes in the celebrity enclave of Malibu and forced scores of local residents to flee.
Fires erupted at around 3:30 am (1130 GMT) Saturday, officials said, spreading rapidly through tinder-dry brush as winds packing gusts of up to 50 miles per hour (80 kilometres per hour) fanned the inferno, the second major blaze to hit Malibu in a month.
By 5:00 pm (0100 GMT Sunday), around 4,650 acres (1,880 hectares) had been scorched and 51 buildings, including 49 homes, had been destroyed. A further 27 structures had been damaged, Los Angeles County Fire Department officials said.
In response, California Governor Arnold Schwarzenegger reactivated a state of emergency he declared last month in response to the wildfires in Los Angeles, Ventura and San Diego counties, The Los Angeles Times reported.
A drop in winds allowed firefighters to make inroads into the blaze, which was now 25 percent contained, officials said.