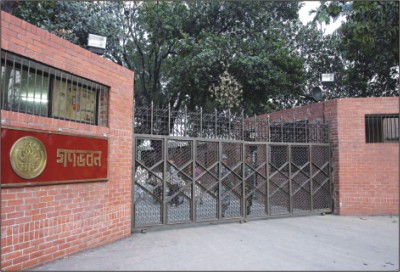 Prime Minister Sheikh Hasina and her family moved into Gono Bhaban yesterday.
She had been living in state guesthouse Jamuna on Hare Road since February 6 last year.
She shifted there from her Dhanmondi residence Sudha Sadan a month after taking oath as prime minister for the second time.
Throughout her first stint, Hasina lived in Gono Bhaban, the official residence of the prime minister.
But this time the house was not ready for use, and it needed a makeover after remaining vacant for seven years.
The shifting was done amid tight security. A few vehicles were allowed to use the Crescent Lake Road leading up to Gono Bhaban in Sher-e-Bangla Nagar area yesterday.
Prime Minister's Press Secretary Abul Kalam Azad confirmed the change of residence.
Sources at the Prime Minister's Office said her staying in Gono Bhaban would cut her commuting time and stop adding to rush-hour traffic jam in Shahbagh, Bangla Motor, Karwan Bazar and Farmgate areas.
Both the PMO and parliament are a little way off her current residence.
The government has assigned Gono Bhaban to Hasina under the security act for family members of the father of the nation.
The law passed by parliament on October 13 last year provides for state security for Bangabandhu's immediate family members.