What's next for DiCaprio and Scorsese after "Shutter Island"?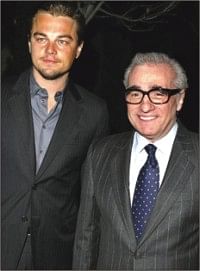 Now that Leonardo DiCaprio and Martin Scorsese have booked their return trip from "Shutter Island" -- following a weekend getaway that nabbed $40.2 million -- where will the A-list actor and the Oscar-winning director head next? Both men have a bevy of projects in various states of production for 2010 and beyond.
Leonardo DiCaprio
Next up for DiCaprio is "Inception," Christopher Nolan's sci-fi mindbender that is part "Matrix," part "Memento" and part ... well, we really don't know at this point. Nolan has successfully kept the secrets of "Inception" locked away, while at the same time thrusting his film into the coveted category of the year's most anticipated films. Co-starring Joseph Gordon-Levitt and Ellen Page, the movie focuses on an elite team, led by DiCaprio, that's charged with a mysterious mission. To say any more would be to ruin the fun. "Inception" will be out on July 16.
From there, we'll have to wait and see. Last December came word that Leo is set to star in an as-yet-untitled film focused on Vikings and directed by Mel Gibson, which is expected to begin filming in the fall of 2010. But that's just one project he's got in the works.
In January, Variety reported that DiCaprio is attached to star in "The Chancellor Manuscript" as a writer whose novel about political blackmail turns out to be more real than he ever imagined. He's also eyeing a starring role in Ridley Scott's adaptation of "Brave New World." And then there's the possible re-teaming of DiCaprio with Scorsese for a biopic of Frank Sinatra with Leo starring as Ol' Blue Eyes. Which of these projects he takes up next remains an open question.
Martin Scorsese
The next Scorsese project audiences will catch after "Shutter Island" will be on the small screen: He's executive-producing HBO's "Boardwalk Empire" and directed the pilot episode. Starring Steve Buscemi and Michael Stuhlbarg ("A Serious Man"), the series tells the story of the Prohibition-era rise of Atlantic City. Scorsese's also bringing a documentary about George Harrison of the Beatles to British TV.
So when will we see the next made-for-the-big-screen production from Scorsese? There's no timeline as of yet, but the project appears to be "The Invention of Hugo Cabret," based on the best-selling children's book about a young orphan in 1930s Paris. Directing "Hugo" will probably necessitate pushing back the Sinatra biopic, a project announced last May. Other Scorsese-directed projects in the works include "Silence" with Daniel Day-Lewis and Benicio del Toro and "The Irishman," another collaboration with Robert De Niro.
Source: MTV