Alphabet Fair today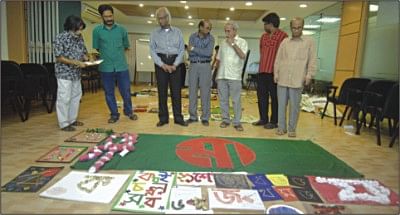 A daylong 'Borno mela' (Alphabet Fair) will be held at Sultana Kamal Women's Sports Complex at Dhanmondi in the city today on the occasion of Amar Ekushey.
Leading Bangla daily Prothom Alo organises the fair with colourful programmes for people of all ages. The fair beginning at 8:00am would remain open for all until 5:00pm.
As part of the fair, an exhibition of alphabets will be held. Designs of the alphabets were invited from school students for the exhibition, and the organisers received a huge response.
Out of about 1,000 entries, 50 designs selected by a panel of judges will be put on display. The winners will also be awarded. Noted artists Qayyum Chowdhury, Samarjt Roy Chowdhury, Abul Barak Alvi, Abdul Mannan and Shishir Bhattacharya acted as the judges.
Qayyum Chowdhury said, "The alphabets made out of different materials with the touch of creativity of the children have impressed me greatly."
Besides alphabet exhibition, painting and handwriting competition will also be held. The competitions have been divided into two groups. In the primary group, students from nursery to class five will participate in the contest. In the secondary group, there will be students from class six to ten.
The 30-minute handwriting competition will start at 9:00am and the one-hour painting competition at 10:00am.
The contestants would have to register at least 30 minutes before the competition.
The programmes also included puppet show, mime show, kite flying, and language- and alphabet-based songs and poetry recitation.
Rezwana Chowdhury Bannya, Surer Dhara, Kanak Chanpa and artists of Jagoron Sangskritik Charcha Kendro would render songs.