ZIA made Shahjalal International Airport
All establishments named after Zia to be renamed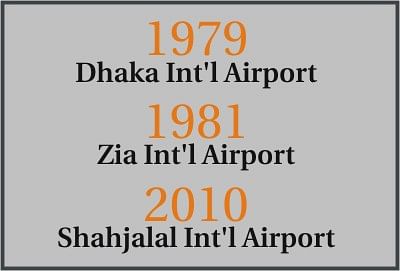 The government yesterday decided to rename the establishments named after late president Ziaur Rahman including the Zia International Airport, which is to be named Hazrat Shahjalal (R) International Airport.
It also decided to reinstate original names of the structures, which were changed by the BNP-Jamaat coalition government between 2001 and 2006.
The decisions would come into effect with government's official notification.
A cabinet meeting at Prime Minister's Office made the decisions with Prime Minister Sheikh Hasina in the chair. The premier directed the authorities concerned to go tough against Jamaat-Shibir activists if they keep trying to destabilise the country. She also asked them to show no mercy to the police officials who neglect their duties.
"According to the cabinet decision no structures or institutions will bear name of illegal autocratic ruler Ziaur Rahman following the High Court verdict regarding cancellation of the Fifth Amendment," Prime Minister's Press Secretary Abul Kalam Azad told reporters during a post meet briefing.
The verdict meant that the governments between August 15, 1975 and April 9, 1979 including Ziaur Rahman assuming power were illegal, he said.
"The 6th cabinet meeting of the year also decided to change the name of Shaheed Ziaur Rahman University, Barisal to Barisal University.
The meeting argued that the international airport in Dhaka was named Dhaka International Airport when it was shifted from Tejgaon to Kurmitola in 1979. Later in 1981, the then government renamed it to Zia International Airport.
Regarding renaming the airport, the cabinet said that since the people of the country respect Sufis and religious figures and wish to keep their memory alive many important establishments had been named after them.
It referred to the airport in Rajshahi, which was named after Shah Makhdum (R), Shah Amanat (R) airport in Chittagong and Hazrat Khan Jahan Ali (R) for the under construction airport in Khulna.
"Considering these, the cabinet's renaming of the Zia International Airport as Hazrat Shahjalal (R) International Airport, Dhaka is right," Azad said.
According to the cabinet decision, Begum Khaleda Zia Medical College and Shaheed Suhrawardi Hospital will be renamed as Shaheed Suhrawardi Medical College and Hospital while Jamuna Multi-Purpose Bridge as Bangabandhu Bridge and Dhanmondi Women Sports Complex as Sultana Kamal Sports Complex, among many others.
The cabinet also approved proposals to pass EPZ Workers Welfare Association and Industries Affairs Bill 2010, Bangladesh Economic Zone Bill 2010, Bangladesh Textile University Bill 2010 and Chartered Secretaries Bill 2010.
Under the Bangladesh Textile University Bill 2010, the present College of Textile Technology, Tejgaon is going to be upgraded to university.
Meanwhile, Chief Whip of the Opposition Zainul Abdin Farroque, during a press briefing at the parliament's media centre, warned the government of mass movement if it did not scrap its decision of renaming the Zia International Airport.