Boi Mela gets into Valentine's Day mood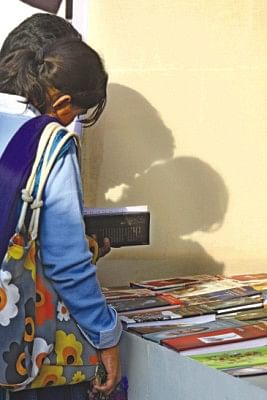 The celebration of Valentine's Day yesterday added a degree of significance to the festivity of the Amar Ekushey Boi Mela with the large gathering of couples at the fair place.
Couples in colourful dresses-- mostly in sarees and panjabis-- flocked to the fair place in the afternoon turning the venue into a place for happy and colourful celebration. They were seen buying books for their beloved persons.
Though yesterday was a working day, the place was teeming with visitors. The shop owners said the sale of books of love stories and poems was high compared to other books.
Shimul Khan, a visitor, said, "I bought Premer Kabita of Rafiq Azad for my wife. I thought of coming to the book fair earlier but could not make it. Today I came with my wife and child to celebrate this special day."
The food shops along the road beside the fair also had a busy time serving the visitors of the fair.
The bookstalls having a good collection of popular books witnessed a huge crowd of booklovers.
Among the new titles that came out in the last two weeks, books of poems topped while novel got the second position. A total of 353 books of poems, 327 novels, 192 short stories, 39 books on the Liberation War, 67 child literature, 74 biographies and 11 books on politics were brought out.
The number of yesterday's new titles was 94 including Nari, Manobadhikar O Rajniti by Sultana Kamal, Premer Kobita by Rafiq Azad, Natok Shomogro by Muhammad Zafar Iqbal, Premer Kobita by Ahsan Habib and Dinante Din by Khairul Alam Sabuj.