Last wake-up call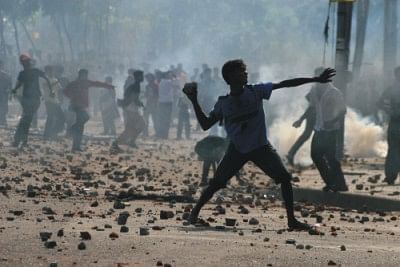 The recent university killings bother everyone. Why can't we remove this death trap? We need sincere willingness from our political parties. Many political bigwigs send their children abroad for higher education. Therefore, our public universities' anarchy does not directly affect them. However, they should realise that most Bangladeshis clearly cannot afford to send their children abroad for better education and security. For most parents, their dream is fulfilled if their child can get into a university in Bangladesh.
I am unsure of the benefits of student politics. Maybe I am not short-sighted enough to see the immediate and unethical gains at the cost of our future. But, do political leaders find it illogical to unite under one platform and ban their student-wings? Can't they give up immediate gains and selfish dominance for the Abubakars and their families? If not, then the future will likely be catastrophic.
Students, being made into puppets by political leaders, will revolt one day against their so-called godfathers. Failure in higher education, along with a lack of resources, population growth, unemployment, and corruption will plague the country. This may destroy the political system, and make Bangladesh a failed state. The government, should take the recent university violence as the final wake-up call, and implement the following recommendations.
First, the government should pass a law prohibiting student politics and political party student-wings. Just because our students were glorious during 1947-1971, does not justify today's students' claims to political activism. Currently, politics at educational institutions take a toll on students' lives and cause academic stagnation. Our students globally lag in knowledge and skills. They cannot learn in a violent and unsafe campus.
Students deserve a safe campus where they freely gain knowledge and life-changing skills. Nothing is more disgraceful than if students hold butcher's knives in hand instead of books. Thus far, Khulna University remains free of student politics. Since its establishment, campus political violence has not been reported. This should be an example for other universities.
Second, faculty-recruitment policies need to change. Unfortunately, many teachers cannot hold faculty positions. They lack morals and the academic background needed to become faculty. Incompetent faculty are appointed because of nepotism and political favoritism. Reports state that freshmen students start lobbying with political leaders and their chosen political division professors to be appointed lecturer upon graduation, causing an unprofessional and unethical relationship between students and faculty. When a teacher favours a student, s/he becomes obliged to that teacher and tries to entertain their mutual interests.
The government should form an independent search committee for faculty recruitment, comprising of experts in specified fields, mainly from other universities. After reviewing faculty candidate credentials, the committee will short-list them. Short-listed candidates will teach a class, allowing students in that class to vote for the best one. Student opinions will determine the final selection. In this way, only competent and qualified people who care about student development will become university faculty. Since political leaders won't favour them, they won't consider political interests.
Third, students' tuition fee should be increased. This is vital and I anticipate heated counter-arguments from my readers. In refutation, metaphorically speaking, when you achieve something easily, you don't appreciate its value. Our students study for five years at public universities (which usually takes longer) at a minimal tuition cost. If they paid for their education, they would be more serious about it.
Universities should use this increased tuition funds in three ways. First, they should purchase modern educational equipment. Unfortunately, many of our universities lack modern educational technology and laboratory facilities. Second, each university should develop a strong financial aid program for deserving students. This way, students will study harder to receive scholarships. Third, universities should increase teachers' salary. By following the aforementioned faculty recruitment procedure, only qualified people will become university teachers who should get better salaries so they can concentrate on their teaching and research. Unlike today's university faculty, they will not have to work part-time or run a private business.
If the government considers these recommendations, they can avoid tragedy. Otherwise, our nation's future will be gloomy. Because a majority responded to Awami League's vision of change, the government should respect them. Our government cannot afford to play the blame game and wait until the dreams of the Abubakars shatter due to violent student politics. I hope that the recent campus violence and lives lost will act as the last wake-up call for our government.
S.M. Anwaruddin is a lecturer (on study leave) of BRAC University Centre for Languages.
E-mail: [email protected].