Dhaka City expansion plan revealed in JS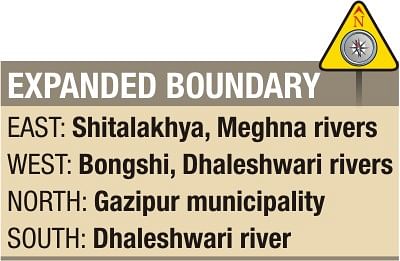 Prime Minister Sheikh Hasina yesterday in parliament said that her government has a mega-city plan to expand the areas of Dhaka city.
Hasina also said her government had taken massive initiatives to digitise land survey records in efforts to build modern land administration.
The government is seriously considering giving approval to the Dhaka Metropolitan Development Plan (1995-2005) covering 1528 square kilometre, she said.
According to the plan, boundary of Dhaka city will be extended to Shitalakhya river, a part of Sonargaon thana, Meghna river in the east, Bongshi river in the west, Dhaleshwari rivers both in the west and south, and north boundary of Gazipur municipality.
As per the plan, municipalities of Narayanganj, Tongi, Gazipur, Savar, Kadamrasul, Siddhirganj and Tarabo will be incorporated into Dhaka City Corporation.
"The government is planning to build several satellite towns under the plan and those will be implemented in phases," she said in a scripted answer.
While talking about the modernisation of land administration, the premier said once the modernised land survey and management system are introduced, it would reduce people's sufferings.
While replying to lawmakers' queries, she said as part of a modernised land administration the land ministry would prepare a digital map of the entire country.
And besides, her government has finalised a countrywide development project under public- private partnership to mitigate people's sufferings related to land disputes.
"Land records will be digitised at union parishad level so that people can have easy access to information on land records," the premier said.
Under the land ministry's project, a digital archive of the existing mouza map and cadastral survey (CS) records will be developed at all mouzas of 64 districts.
She said the digital land management system will be introduced on the basis of the latest survey conducted in 461 upazilas excepting the upazilas under three hill districts.
MEGA PLANS IN TOURSIM
The prime minister told the parliament that her government had taken a huge plan to boost up country's tourism sector.
On the occasion of world cup cricket, the year 2011 will be observed as tourism year to build a positive image of country's tourism sector, she said.
Hasina said her government is preparing a five-year (2009-2014) plan. As part of the plan tourism resorts in the country is being identified in a view to developing them as major tourist attraction.
"Efforts were taken to build exclusive tourism zone for foreigners," she said, adding that the mega plans had been prepared to develop Cox's Bazar and Kuakata tourism spots.
The premier said the government had initiated to enact law on exclusive tourism zone to develop tourism facilities in a planned way under both government, and private efforts.
Another law titled Tourism Board Law will also be enacted to expedite expansion of tourism industries under the concerted efforts of both government and private stakeholders, she added.
FREEDOM FIGHTERS
Replying to lawmakers' queries, the premier told the House that the government had taken initiatives to increase monthly honorarium of freedom fighters. They will also be allocated abandoned houses and khas land.
In response to a query of a lawmaker over the dispute of the list of freedom fighters, Hasina said a fresh list of freedom fighters is being prepared.
She urged lawmakers to help drop the names of fake freedom fighters prepared during the BNP-Jamaat led alliance government.