Telangana on boil again over statehood demand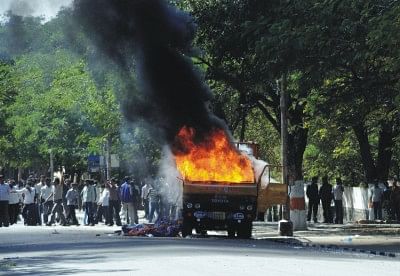 Police fired in the air and caned Osmania University students carrying the body of their colleague Wednesday as Andhra Pradesh's Telangana region was again on the boil with two suicides triggering fresh protests for a separate state.
K Venugopal Reddy, a final year MCA (master of computer applications) student, self-immolated on the campus of Osmania University. His charred body was found in the campus. The same day, Tuesday, a girl student set herself ablaze in Mahabubnagar district, giving a new twist to the movement to carve out a separate Telangana state out of Andhra Pradesh.
In their suicide notes, both Venugopal Reddy and Suvarnamma, a first year BSc student, said they were afraid Telangana state would not become a reality.
The suicides came a day after the Joint Action Committee (JAC) of Telangana students launched a walkathon. The all-party JAC also continued their relay hunger strike to urge the central government to immediately initiate the process of forming Telangana state.
There had been an apparent lull in the region since the central government convened an all-party meeting in New Delhi Jan 5. Pro-Telangana parties expected an announcement on a separate state, but the central government kept mum.
It was expected to be quiet till Jan 28 - the deadline set by the groups for New Delhi to initiate the process - but the two self-immolations in one day altered the situation.
Osmania University, the nerve centre of the ongoing movement, and other universities in the region erupted in anger.