!dea Cup 2010 Bangladesh-India Test Series
Zaheer smells victory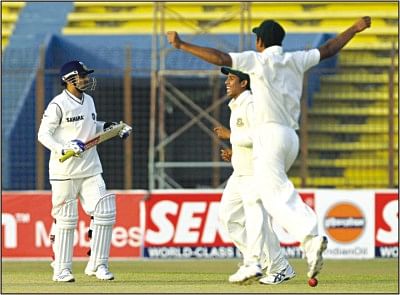 India took away the initiatives from Bangladesh on the third day and were looking forward to winning the first Test match at the Zahur Ahmed Chowdhury Stadium in the port city with the pre-condition of good weather.
India's leading paceman Zaheer Khan, who caused most of the damage to the Bangladesh top order with three for 54, expressed his team's sentiment at the press conference after his side took a 123-run lead with nine wickets in hand at stumps on third day.
After a brittle batting in the first innings, India bounced back strongly in their second innings to finish the third day play with 122 for one in 22.2 overs and Zaheer hinted that they kept a good run rate eyeing victory.
"We are happy with the way things have been progressing. There is every chance to achieve a positive result if the weather condition stays like today. The first two sessions of the fourth day will be very important," said Zaheer.
"We will definitely try to maintain the run rate we have achieved today," he added.
Zaheer also praised their bowling effort which enabled them to wrap up Bangladesh for 242 runs and take a one-run lead.
"I thought it was a good bowling effort. Basically they were playing shots, so it was important that we stuck to our areas and be patient. I was just bowling in the right areas. There was good sunshine and the wicket definitely improved as the play went on. We are happy with the proceedings," said Zaheer.
"I think the wicket was offering help to the bowlers initially but as the play went on it got better and better."
Zaheer also praised the two other pacemen Ishant Sharma and Sreesanth, both of whom claimed two wickets each.
"It is good to see him (Ishant) bowl the way he did in the Test match. He has definitely gained some confidence and he's looking good. On the other hand, Sreesanth is also getting his rhythm back," said Zaheer.
The ace left-armer also said that the joining of bowling coach Eric Simmons will help the team.
"It is a good thing that we will be playing four Test matches in a row and we have the bowling coach with the team," said Zaheer.