Population problem: Forewarning of bigger ones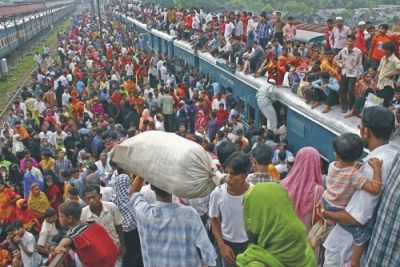 AN oversized population is a problem for any country irrespective of its stage of development. The problem is really complex for a developing country because of resource constraint. We economists at times downplay the problem and argue that developed manpower, whatever its size, will always augment welfare of the country. The argument is built on economic indices: GDP, per capita income, foreign exchange reserve, productivity etc.
Maybe there is a point; with proper education and training a large population may be rendered into an effective instrument of economic development. What the economists miss is that population is a real entity, not a nominal variable. Demands of the real entity are physical, and money cannot meet them all. Nominal instrument has its limitation in solving real problems.
What a human being needs most are food and space. Many other physical services are also needed -- sanitation, water supply, healthcare, transport etc. These may be put aside for the time being. A person needs some space and (s)he will try to get it at any cost. A country will face an almost insuperable problem if it does not have the required physical resources, particularly land, to meet the physical demands. The position will be made clear if we deliberate on the issue in the context of Bangladesh.
Bangladesh has the highest land-man ratio (normalised), or population density, in the world. Surely it is not the poorest country of the world, nor is it really a least developed country (LDC) in terms of all economic and social indicators. It, however, confronts a uniquely suffocating problem in terms of land per person. Upgrading the land is possible but augmenting the size is almost impossible. Only a small area can be reclaimed from the river basin if nature is not hostile.
The problem is further exacerbated by river erosion, which renders thousands homeless every year. The affected move to cities to dwell in shanties in subhuman conditions.
The pressure of population is palpably felt in the cities, particularly in the capital city. Traffic jam, over-crowded footpaths, high level of carbon emission, swarming shanties, and stampeding throngs in public places make city life miserable even for people with vast reservoir of patience, let alone ordinary mortals.
Some argue that high-rise buildings, flyovers and elevated expressways will solve these problems. These are costly and time consuming to build. Moreover, by the time these are completed, new crowds will join to undermine the facilities built in the meantime. The crowds may go up or down; ultimately they will use land to move on and carry out most of their day-to-day business. Hell is let loose when too big a crowd descends on a limited space.
The author has observed that even in rich countries unmanageably big crowds are prone to creating disastrous situations beyond comprehension. All institutions, values and instruments of management control collapse instantaneously. Animal instincts surface, threatening civilised existence. Innovations can hardly help in such situations.
Some people contend that decentralisation would solve the problem of over-population and congestion in the cities. This may be true for countries which have large land mass and there are areas which are thinly populated. Not for Bangladesh, where district towns and even some rural areas are also overpopulated. In fact, the area now comprising Bangladesh was overpopulated when East Pakistan was created sixty years back.
Even at the beginning of the twentieth century this area was thickly populated, implying that the area was prosperous at a wrong point of time when the concept of border was not operationally enforced as it is done today. Now Bangladesh is burdened with a huge population and there is no easy way to spread it around.
For a genuine solution, spreading of population has to mean permanent relocation or at least semi-permanent resettlement abroad. High remittance does not resolve the physical problems due to over-population. Remittance means diversion of agricultural land to homestead because with remittance the expatriates and their relatives construct bigger house, often on a newly acquired parcels of land. This in turn means loss of open space and more congestion.
The author has observed that expatriates from some neighbouring countries have moved to acquire properties in foreign countries and settle there permanently, perhaps keeping a somewhat tenuous link with the home country. One has solid reasons to be concerned whether Bangladesh will be able to physically sustain such a huge population even with a faster pace of economic development
For the world as a whole population is not at all a problem. The world's population is 6.75 billion, which is likely to stalibise at around 9.5 billion; it will not explode. Given the land size almost all other countries can sustain their populations. In fact, many developed countries are experiencing reduction of population owing to loss of fertility. Their land-man ratio warrants induction of more people through their borders. These countries can help Bangladesh export its manpower on a large scale. Cooperation with positive attitude between countries will render it infinitely easy to resolve the population problem of Bangladesh, but not to the disadvantage of partner countries.
Bangladesh accommodated foreigners as long as it could afford to so. It is now the responsibility of the international community to accommodate Bangladeshi expatriates in their lands to ensure a balanced distribution of population world over. No other country should be included in this list because only Bangladesh suffers from such acute land-man imbalance.
The intention of the above discussion is to highlight the disastrous situation that population problem has created in Bangladesh. Unless addressed through non- conventional methods, population problem will trigger unmanageable physical and environmental problems which no government will be able to contain, despite sincere efforts. We are facing an alarming situation. Let us reaffirm our highest commitment to overcome the problem. No amount of sophistry will do.
Dr. Saadat Hussain is Chairman, Public Service Commission.