Bangabandhu's homecoming day today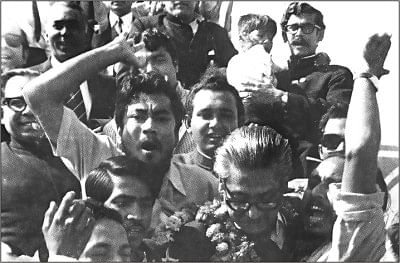 The nation celebrates today the historic homecoming day of Bangabandhu Sheikh Mujibur Rahman.
On this day in 1972, Bangabandhu, the Founding Father of Bangladesh, returned to an independent country after nine and a half months confinement in the jail of the then West Pakistan during the Liberation War of Bangladesh in 1971.
Pakistani occupation forces arrested him on March 25, 1971 from his Dhanmondi residence during the late-night crackdown on the people of Bangladesh (then East Pakistan).
The Pakistan junta later sent Bangabandhu -- who led our war of liberation and struggled for independence -- to Pakistan (then West Pakistan) and imprisoned him.
After the nation achieved victory over Pakistan on December 16, 1971 through a nine-month-long Liberation War, the then junta of Pakistan was compelled to free Bangabandhu -- the icon of Bangladesh's struggle for independence.
To observe the day, different organisations and political parties including Awami League and its associate organisations have drawn up elaborate programmes.
The programmes include hoisting of national and party flags at the central office of the party, Bangabandhu Bhaban and party offices across the country at 7:00am.
At 7:30am, leaders of AL and its associate organisations -- Bangabandhu Research Centre, Bangali Foundation and various other organisations -- would place wreaths at the portrait of Bangabandhu at the Bangabandhu Memorial Museum on Road 32 at Dhanmondi.
Discussions on the glorious political life of Bangabandhu and milad mahfil will also be held at different places including Bangabandhu International Conference Centre at 3:00pm, organised by AL.
Prime Minister Sheikh Hasina will address the meeting before she leaves for India on a state visit.
A team of AL leaders led by AL presidium member Abdul Latif Siddiqui will lay wreaths at the grave of Bangabandhu at Tungipara in Gopalganj today.
In a message on the eve of the historic day, President Zillur Rahman said on this day the architect of independent Bangladesh Bangabandhu Sheikh Mujibur Rahman returned to sovereign homeland from Pakistan prison.
"I believe our independence and sovereignty would remain constant as long as we will stay with the ideal of Bangabandhu," the president said in his message.
The prime minister in her message said the victory in the Liberation War got completeness with the homecoming of Bangabandhu.
She called upon all to get united to build a prosperous and improved life for Bangladeshi people.