Rise Sir Fazle Hasan Abed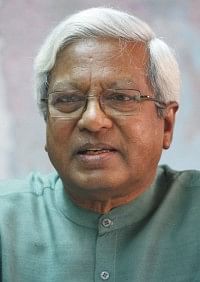 NEW Year began well for Bangladesh. At the very outset, we got the good news that Her Majesty Queen Elizabeth II has decided to confer knighthood on Fazle Hasan Abed, the founder and Chairman of Bangladesh Rural Advancement Committee (Brac) for his outstanding contribution in "tackling poverty and empowering the poor" in Bangladesh and beyond. Earlier, Abed had received numerous awards for his exemplary contributions to social improvement. Notable among them are the prestigious Ramon Magsaysay Award, the UNDP Mahbub Ul Huq Award, and the inaugural Clinton Global Citizen award.
Abed is the first Bangladesh national to be honoured with a knighthood, Knight Commander of the Most Distinguished Order of St. Michael and St. George (KCMG), by the British Crown. Incidentally, his grand uncle, Justice Nawab Sir Syed Shamsul Huda, was knighted by the British Crown in 1913.
Another Bangladesh national, Mohammad Yunus, received the Nobel Peace Prize three years ago for his untiring efforts for the elimination of poverty through micro-credit program under the aegis of the Grameen Bank. Brac and Grameen are direct products of our national independence, and Abed and Yunus surely have made the nation proud.
Abed is a contemporary of my elder brother Shaukat. I met him for the first time in Pabna in early 1950s when he was studying in the senior grades at local Zilla School. He was residing with his uncle Rashidul Hasan, who was the district judge and my father Syed Mustafa Ali was the sub-divisional officer. Our families knew each other for decades and, fortunately, our official residences were located opposite each other.
I would go to their house quite frequently. Abed and his cousins Zubair and Munna were much senior to me, and our conversations were brief, but the main purpose of my visits was to listen to film songs on their gramophone. The records would often get stuck, and we would apply kerosene as lubricants and change pins frequently. The other attraction, of course, was the generous snacks which I would get every time I visited their house.
The next time I came across him was in Chittagong in the mid-sixties, when I was in university and he had just returned from London as a chartered accountant and joined the famed Shell Oil Company. At that same time, my cousins A. S. Mahmud and Kaiser Zaman were working as executives at Shell, and my brother Shaukat was in Chittagong with Ispahani; thus they provided the connecting link.
Then came the devastating cyclone of 1970 and altered Abed's corporate lifestyle forever. He was so moved by the death and destruction in the worst affected areas of Manpura that he, along with some friends, decided to set up HELP -- a private body -- and became involved in the relief and rehabilitation efforts in that area. The War of Liberation, which began soon thereafter, completely transformed him. Circumstances forced him to take refuge in England in 1971 and there he got involved in the setting up of "Action Bangladesh," which vigorously lobbied for our national cause in Europe. They also collected funds and sent relief materials to our people who had taken shelter in India.
After independence, Abed sold his flat in London and decided to use his funds, as well as funds he had received from some of his close friends, to set up a relief and rehabilitation center in the remote area of Sulla in the northeastern war-ravaged Bangladesh.
There was no turning back from that point. He decided to go beyond his initial mission. Slowly but surely he started working towards the long-term venture of improving the living condition of the rural poor in Bangladesh.
Sulla could be termed as the birthplace of Brac, which, within the short span of three decades, has emerged as the world's largest NGO. Abed has always given maximum attention to the landless poor, particularly women, who live well below the poverty line and have been consistently denied access to resources or our conventional development efforts.
Today, Brac is a success story. It operates in 69 thousand villages of Bangladesh, and nearly 110 million people have been brought under its multi-dimensional development programs, ranging from primary education, basic health care needs, agricultural support, micro-finance, to legal assistance and enterprise development.
Brac's non-formal education model is so successful that during the period I was director general (international organisations) in the foreign office (1992-95) numerous high-level official delegations from Africa visited Dhaka to inspect these schools and replicate the models in their respective countries. These visits had been arranged by Unicef, and coordinated by the foreign ministry.
Brac started its international operation in 2002, when it helped in the development efforts in war-ravaged Afghanistan. In addition to Afghanistan, today its anti-poverty multi-dimensional development effort extends to seven other countries, namely Uganda, Tanzania, Southern Sudan, Pakistan, Sierra Leone, Liberia and Sri Lanka. Brac had to make necessary adjustments in each case to suit the local socio-economic conditions, customs and sensitivities.
Abed avoids publicity and prefers to work quietly without much fanfare. He accepts international awards and citations with utmost humility. Today, Brac is not only in our villages but also in every aspect of our civic life here in Dhaka. We go to Aarong to buy handicrafts and gifts, we purchase Brac milk and other diary products and agricultural produce, our children go to Brac University, and we have accounts in Brac Banks.
The honour that Abed received is a recognition of his tireless efforts to uplift teeming millions from abject poverty to a world of hope and dreams fulfilled. It is a reaffirmation of his faith in the ability and credibility of the poor, especially the women. This award should further boost his indomitable spirit to work towards his cherished goal of eliminating poverty in Bangladesh and beyond.
Rise Sir Fazle Hasan Abed, rise, and raise our national honour higher!
Syed Muazzem Ali is a former Foreign Secretary.