Israel building 700 new housing in Jerusalem
White House opposes settlements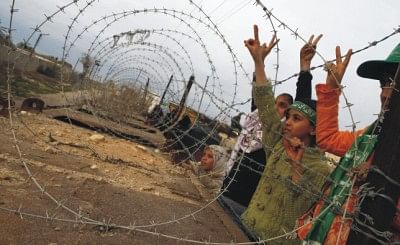 Israel announced Monday it is building nearly 700 new apartments for Jews in east Jerusalem, where Palestinians hope to set up the capital of a future state. The US, Palestinians and the European Union condemned the plan, a fresh setback to American efforts to restart Mideast peace talks.
The Palestinians have said they will not resume talks without an Israeli settlement freeze, and criticized what they said was another show of bad faith by Israel.
"With each individual action it undertakes on the ground, Israel is saying no to meaningful negotiations," said Palestinian negotiator Saeb Erekat.
President Barack Obama's Mideast envoy, George Mitchell, who is trying to find a formula for reviving negotiations, is due in Israel and the West Bank in the second week of January.
White House press secretary Robert Gibbs said the US "opposes new Israeli construction in east Jerusalem" and that neither side should take steps that pre-empt the outcome of talks. He urged both sides to restart negotiations without preconditions.
Sweden, which holds the rotating European Union presidency, said Israel's latest plans "prevent the creation of an atmosphere conducive to resuming negotiations on a two-state solution."
Israeli Prime Minister Benjamin Netanyahu travelled to Cairo yesterday for talks with Egyptian President Hosni Mubarak amid US efforts to revive stalled Middle East peace talks.
The discussions were to focus on "ways to advance peace efforts," Egyptian Foreign Minister Ahmed Abul Gheit said.
Israel insists the Jewish neighbourhoods in east Jerusalem are not settlements, but part of its own capital, a view disputed by the international community.
The plan announced Monday takes the government of Israeli Prime Minister Benjamin Netanyahu into new political territory, by initiating construction for Jews in east Jerusalem. Up to now, the government has been saying it was endorsing plans already in the pipeline. Israel's Housing Ministry confirmed that the new construction bids are Netanyahu's first in east Jerusalem.
A partition of Jerusalem with Jewish neighbourhoods going to Israel and Arab neighbourhoods to a future Palestine would likely be part of any peace deal. Palestinians say that with each expansion of Jewish areas, the Arab portion of the city is shrinking and partition becomes more difficult.
Netanyahu said he was willing to get back to talks immediately, telling a group of Israeli ambassadors: "Israel wants peace."
Israeli-Palestinian talks broke off a year ago. After coming to power nine months ago, Netanyahu withdrew key promises made to the Palestinians by his predecessor, including a willingness, in principle, to discuss the future of Jerusalem.
About 300,000 Israelis live in West Bank settlements and another 180,000 in east Jerusalem, areas claimed by the Palestinians for their state. Under US pressure, Netanyahu agreed to slow new housing construction in the West Bank, though construction of more than 3,000 houses there continues.
The Israeli leader refuses to stop building in east Jerusalem, captured by Israel in the 1967 Mideast War and annexed. He says he will not cede any part of the city.
Successive Israeli governments have put up sprawling Jewish neighbourhoods around east Jerusalem, and Monday's decision would build in three of them: Pisgat Zeev, Har Homa and Neve Yaakov.
Abbas insists on a total settlement construction freeze, including east Jerusalem, and also wants assurances that the pre-1967 war borders would serve as the basis for talks that would pick up where they left off under Netanyahu's more moderate predecessor, Ehud Olmert.
In those talks, Olmert and Abbas accepted the principle of swapping land meaning Israel would retain some West Bank land to incorporate large Jewish settlements but compensate the Palestinians with Israeli land. However, the Palestinians did not accept the offer because they felt Israel wanted to hold on to too much land, and Netanyahu withdrew it.
Mitchell has been sounding out Israel about possible compromise, in hopes of getting the talks restarted, according to an aide to Palestinian President Mahmoud Abbas and former Israeli lawmaker Yossi Beilin.
Beilin said Netanyahu has not accepted the idea of basing the talks on the borders before the 1967 war, in which Israel captured the West Bank, Gaza and east Jerusalem. Beilin, an architect of Israeli-Palestinian peace accords in the 1990s, remains in touch with government officials.
An Abbas aide said Mitchell is also talking to Israeli officials about possible goodwill gestures, such as releasing more Palestinian prisoners and expanding West Bank areas under full or partial Palestinian control. The aide spoke on condition of anonymity because he was not authorized to discuss the content of the meetings.