Remembering Moulana Bhasani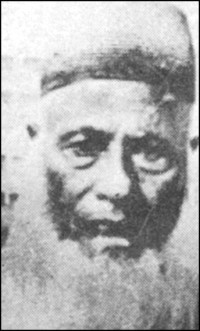 Moulana Abdul Hamid Khan Bhasani is that great leader who first expressed his dream of an 'independent homeland' at the Kagmari Conference in 1957. In 1971 he was the Chairman of the Advisory Committee of the Mujibnagar Government. Moulana Bhasani is a legendary figure in the whole subcontinent. He will live in the hearts of the vast common people of whose rights he fought for during his entire life.
Moulana Abdul Hamid Khan Bhasani was born in Dhangara village near the Sirajganj town. In 1917 when Deshbandhu Chittaranjan Das visited Mymensingh, Bhasani was highly attracted by his lecture. In 1919 Bhasani joined the Indian National Congress. In 1923 when Deshbandhu formed the Swaraja Dal, Bhasani worked for organising this party. In 1924 he went to Assam and organised a big congregation of peasants at Bhasan Char. After this congregation he was named as 'Bhasanir Moulana.' In 1932 when he organised another big congregation of peasants at Sirajganj, he became famous all over the country. In 1937 the Assam government introduced a repressive 'Line Law' against the migrant Muslim peasants. Moulana Bhasani formed 'Assam Chashi Mojur Samiti' and organised agitations against this law in Dhubri, Goalpara and other areas.
In 1945-46 there was a drive to evict Bengalees from Assam in the name of 'Bangal Kheda,' which erupted in riots. Moulana Bhasani toured to Mangaldoi, Barpeta and Guahati areas in Assam to save the Bengalees. He proposed Assam to become a part of the proposed East Pakistan. After creation of Pakistan he returned home and settled at Santosh in Tangail. He was elected to the State Assembly of East Bengal as a member of the Muslim League. He was the first to demand speaking in Bangla and spoke in Bangla in the Assembly. On the 23rd June of 1949 the East Pakistan Awami Muslim League was formed under his leadership. In 1950 he was arrested and sent to jail under Public Safety Act. Here he came across with the communists. In Rajshahi Jail, a large number of communist inmates were killed by firing in the Khapra ward. Moulana Bhasani went on hunger strike in jail protesting those killings. He was released when his health deteriorated.
At the start of historic language movement, Moulana Bhasani became a central leader of its 'Sarbodaliya Rastrabhasha Sangram Parishad.' Moulana Bhasani was a key figure of the Jukto Front of East Bengal formed in 1954. At this time AK Fazlul Haq, Moulana Bhasani and HS Suhrawardy were very popular leaders in Bengal. The Jukto Front led by this trio captured 228 out of 237 seats in the election and became absolute majority in the Assembly. But on 30th May 1954 the Central Government dissolved the Jukto Front government of East Bengal on the charges of failure to check the communist disturbances. An unprecedented repressive measure followed on the people afterwards.
Before dissolution of the Fazlul Haq Ministry, Moulana Bhasani left for London on 25trh May 1954 to attend the International Peace Conference in Germany. The Pakistan government put obstruction to his visit labeling him as a 'communist' and put embargo on his return to his homeland. After removal of this embargo Moulana Bhasani returned home from Kolkata on 25th April 1955.
Moulana Bhasani called for a council session of the Awami Muslim League on the 7th and 8th February of 1957 at Kagmari. It was a large congregation of intellectuals and political leaders from all over the subcontinent. At this congregation he told the audience that, if West Pakistan did not halt its repression on East Pakistan, it shall soon say 'Assalamu Alaikum' to West Pakistan. Moulana Bhasani severely opposed the policy of Pakistan government for Pak-American war treaties like SEATO and CENTO.
Moulana Bhasani left the Awami Muslim League and formed the National Awami Party. He led the historic 1969 mass movement, which forced President Ayub Khan's military government to fall. On 12 November 1970 a severe cyclone hit the southern coastal areas of Perojpur, Barguna, Patuakhali, Bhola, Lakhsmipur and Noakhali districts. Several lakhs of people died and more people were affected badly. Moulana Bhasani visited the areas but found total indifference in the attitude of the government. Returning to Dhaka he said in a mass meeting 'Assalamu Alaikum' to West Pakistan and declared 'Independent East Pakistan' on 23rd November 1970.
Moulana Bhasani fought uncompromisingly for the oppressed people during his whole life. On the 7 March 1971, when Bangabandhu declared at the Race Course, Ebarer Sangram Muktir Sangram, Ebarer Sangram Swadhinatar Sangram' Moulana Bhasani supported his statement on the 9th March in a public meeting at Paltan Maidan. At the time of the war of liberation, the exile leftist forces at Beleghata, Kolkata, formed the 'Bangladesh Jatio Mukti Sangram Samannoy Committee' under his leadership. On the 9th September 1971 the exile Bangladesh Government at Kolkata, formed the 'All Party Advisory Committee' under his leadership.
After independence of Bangladesh Bangabandhu Sheikh Mujibur Rahman took advise from him to run the country. Moulana Bhasani spoke of the need of strong opposition to establish democracy in the country. On 14th May of 1973 he declared at a public meeting to go for hunger strike to bring the prices of food, clothing and consumer goods down. During the month of April of 1975 India started unilateral withdrawal of the Ganges water through Farakka Barrage. In 1976 Moulana Bhasani took a long march program to resolve the Ganges water dispute. On 18th April he wrote a letter to Mrs Indira Gandhi on this issue. He led the historic long march on 16th May 1976. But after this event his health deteriorated. Moulana Bhasani died on 17th November at Dhaka Medical College on account of age.
The original dreamer of an independent Bangladesh, the lifetime crusader against oppression on masses, great leader of the common people, Moulana Bhasani is hardly revered properly by any government till now. But he was the only leader whose name is uttered with equal respect by all politicians. At the very event of his death anniversary, I put forward the following proposals to the government for due remembrance and to pay due honour to this great personality.
1. The Open University of Bangladesh be renamed as Moulana Bhasani Open University. 2. The Ramna Garden of Dhaka be renamed as Moulana Bhasani Uddyan. 3. The Moulana Bhasani Road from Shahbag be extended down to Shapla Chattar.
Engr. M Inamul Haque is a freelance contributor.