Chevron support for better housing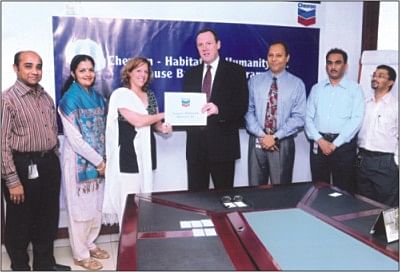 Chevron Bangladesh recently handed over a cheque to Habitat for Humanity International (HFHI) to support low-income families to improve substandard housing through cost effective means at Modhupur in Tangail, says a press release.
Kelly Koch, national director of HFHI, Emelda Snigdha Mallik, resource development and communication manager of HFHI, Steve Wilson, president of Chevron Bangladesh, and Naser Ahmed, director of external affairs, and other Chevron officials were present on the occasion.
Speaking at the programme, Kelly Koch thanked Chevron Bangladesh for its continuous support to build low cost durable houses for the low-income families.
Steve Wilson said, "I am pleased that through the continued partnership between the two organisations, many families enjoy having a safe, decent and affordable place of living."
Under the project, the household living conditions and economic security of low income and poverty-impacted families will be improved, reads the release.