Citycell Bangladesh League
Farashganj draw again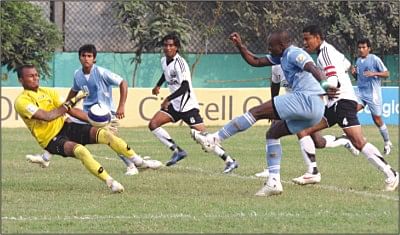 Visiting Chittagong Abahani held Farashganj SC to a goalless draw in their Bangladesh League encounter at the Birshreshtha Shaheed Mostafa Kamal Stadium yesterday.
Away at Sylhet Stadium in the meeting between two newcomers, visiting Feni Soccer Club handed a lone-goal defeat to 10-man Beanibazar SC, thanks to a decisive goal from Imrul.
The third draw in four matches meant Farashganj still remained unbeaten to raise their point tally to six while their opponents Chittagong Abahani also secured six points, but they have played a match more than the Old Dhaka outfit, Farashganj.
After two consecutive defeats against giants Mohammedan and Abahani, newcomers Feni tasted their triumph against the hosts who were reduced to 10 men after Bappi was sent off in the 34th minute of the game and Imrul struck the all-important goal three minutes from the breather to ensure Beanibazar's second loss in three outings.
Back at the Kamalapur Stadium, which hosted a Bangladesh League match for the first time following the renovation work at Bangabandhu National Stadium ahead of next year's South Asian Games, hosts Farashganj enjoyed the superior ball possession and yielded at least three scoring chances but eventually failed to cash in on those opportunities and had to be content with a draw.
Farashganj could have taken the lead in the first half, had Chittagong defender Shawkat not made a goalline clearance in the 37th minute after Prashanto hammered a powerful shot from a scramble inside the box.
After the resumption, Farashganj created two more chances to take the lead, but their Nigerian duo Kalu Johnson and Emeka Lucky Uti frustrated the Old Dhaka outfit on both occasions.
Ismail Zahid whipped a cross from the right for an unmarked Kalu, who drove a low shot to force Abahani goalkeeper Uttam to a diving safe in the 60th minute while Emeka was presented a free-header, but the Nigerian headed the chance wide despite having got the opponents goalkeeper alone.