Schalke at the summit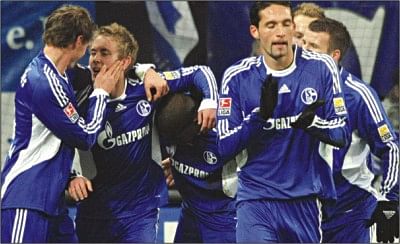 A first-half goal from Peruvian star Jefferson Farfan lifted Schalke two points clear of previous Bundesliga table-toppers Leverkusen on Friday in cementing a 1-0 win over Mainz.
Farfan kept his cool to finish with aplomb and notch his sixth goal of the campaign after taking a neat pass from German under-21 international Lewis Holtby, who, along with his English father, is a staunch Everton fan.
Schalke now have 34 points from 17 games as they bid to go into the winter break top of the heap - though Leverkusen will expect to leapfrog them with victory Saturday at home to midtable Moenchengladbach.
Third-placed Bayern Munich will bid to keep up their solid recent run by beating rock bottom Hertha Berlin which would put them on 33 points.
The 19-year-old Holtby has been making a name for himself in recent weeks with a series of promising showings and again showed his class with his assist.
Holtby is on record as saying that if he graduates to full international football it will be with Germany and not England.
After last week's away success against fellow high-fliers Werder Bremen the leaders, from Germany's Ruhr industrial heartland, have been cementing their credentials as genuine contenders for an eighth championship - but first in half a century.
Indeed, their 1958 success was the only time the Royal Blues - coached by Felix Magath, won led Wolfsburg to glory against the odds last season - have been champions since the Third Reich era.
Magath, out to win the title with three different clubs as a coach (he won three as a player with Hamburg) was being cautious after his side's latest success.
"We stil lack that killer instinct when we go a goal up. But that one goal was enough. We still have to keep on working," Magath told reporters.