Khulna under grave risk
Climate report sees it among 15 most threatened cities in world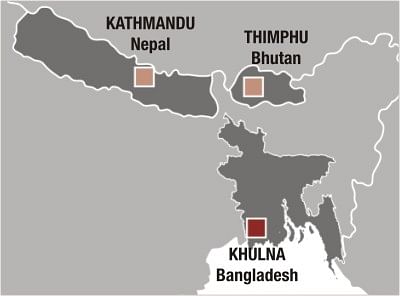 Khulna, the southern metropolis of Bangladesh, has been identified as one of the 15 most vulnerable cities under climate change impact.
The report "Climate Change and the Urban Poor: Risk and resilience in 15 of the world's most vulnerable cities" published recently by International Institute for Development and Environment termed 12 cities from Africa and three from South Asia most vulnerable to climate change.
However, the report did not rank the cities, as their problems differ. Rather it divided the cities into three categories -- coastal, highland and dry land.
Khulna is included in the report as one the most vulnerable coastal cities. The city is home to around 1.3 million people.
The report says the major concerns for Khulna are frequent and increased level of floods, storm surges, intensity of cyclones, water logging, saline intrusion, sedimentation and river erosion.
According to the report, the most vulnerable coastal cities are Khulna of Bangladesh, Maputo of Mozambique, Dar Es Salam of Tanzania, Mombassa of Kenya, and Cotonou of Benin.
The dry land cities are Nouakchott of Mauritania, Diourbel of Senegal, Bamako of Mali, Khartoum of Sudan while the highland cities are Thimphu of Bhutan, Kathmandu of Nepal, Harare of Zimbabwe, Kampala of Uganda, Lusaka of Zambia and Blantyre of Malawi.
The report says only two percent of the world's land is in the Low Elevation Coastal Zone (LECZ) -- coastal areas less than ten metres above the average sea level.
This zone is home to ten percent of the world's population. Besides, constant urbanisation is likely to attract more people in these areas.
Of countries with the largest share of their population living in the LECZ, all but two are low or middle-income nations and are particularly vulnerable to the effects of climate change.
Low altitude of many coastal cities makes them highly vulnerable to flooding and tropical storms, says the report.
Meanwhile, Bangladeshi expatriates in Europe and members of parliament yesterday formed a human chain at Bella Centre urging to save Bangladesh.