Terra-Cotta Warriors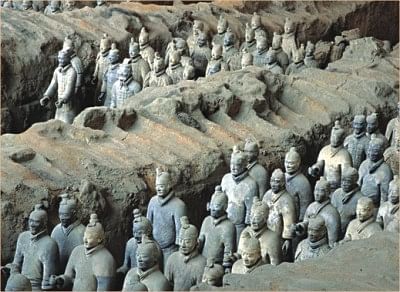 Platoons of clay soldiers were buried with China's first emperor, Qin Shi Huang Di, to accompany him during his eternal rest. These life-size figures, shown here during excavation at the emperor's burial complex near the city of Xi'an in China's Shaanxi Province, are more than 2,200 years old.
The tomb, which extends over 22 square miles (57 square kilometers) and is said to have required a labour force of 700,000 to build, was discovered by a group of peasants digging a well in 1974.
For more than 2,200 years the terra-cotta army has silently guarded the grave of the great First Emperor Qin, during whose ruthless reign China was first united.
The incredible array of unique warriors and horses, equipped with chariots and weapons, was hidden until 1974. In that year peasants digging a well near the ancient Chinese capital of Xi'an made one of the greatest archaeological discoveries of all time.
Today work continues at the site, where as many as 8,000 life-size warriors could finally emerge from the Chinese soil.