'Try war criminals in special tribunal'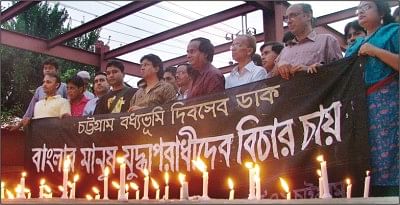 Speakers at a mourning rally on Saturday demanded trial of war criminals in a special tribunal.
They called upon the pro-liberation forces to be united for a joint movement and said many countries of the world brought the war criminals under trial after forming special tribunals.
Projonmo'71, an organisation of the children of martyrs of War of Liberation, and Ekatturer Ghatak Dalal Nirmul Committee of Chittagong organised the rally to mark the 'Chittagong Baddhabhumi Dibas" at Pahartali Baddhabhumi in the port city.
Projonmo'71 President Prof Dr Gazi Saleh Uddin, freedom fighter Commander Ramiz Uddin Ahmed, Gazi Mezbah Uddin, freedom fighters Awlad Hossain, Mohammad Shamsul Alam, Muktijuddher Shaheed Smriti Pathagar President Kamrul Hasan Badal, Executive Member Prof Hossain Kabir, Vice President Mili Chowdhury and Nirmul Committee General Secretary Shawkat Bangali were present.
The speakers also demanded exemplary punishment to the members of Razakar, Al Badar and Al Shams after filing sedition cases against them.
Earlier, Projonmo'71 leaders and family members of the martyrs paid homage to the martyrs lighting candles at the Baddhabhumi.