Vignettes from Selim Al Deen's life and works
Painting and installation at BSA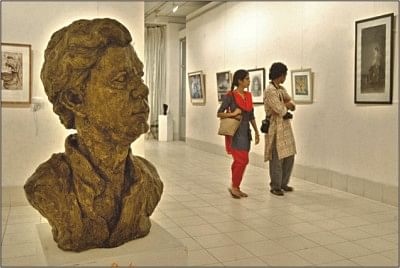 A 12-day international festival featuring the works of legendary Norwegian playwright Henrik Ibsen began on November 12 at the Bangladesh Shilpakala Academy (BSA). Apart from plays and seminars, an art competition and exhibition on Bangladeshi theatre icon Selim Al Deen, titled "Images of Selim Al Deen's Life and Works", are now on at the National Art Gallery, BSA. The exhibition features artworks by the students of 12 art institutes of the country. Over 100 artists are participating in the exhibition.
At the exhibition, Selim Al Deen has been focused on in myriad ways. Most of the painters have portrayed his contemplative face. Participating painters have captured his keen eyes and introspective mood on their canvas. Through his inquisitive and appreciating eyes, artists have captured the spirit of Al Deen in his most candid and outspoken moments. A number of painters have experimented with the themes of his plays. Artists have worked with different mediums and techniques like oil, acrylic, mixed media, metal, collage and others. Some sculptures delineate Al Deen's visage and body language. A number of collages depict different forms of his productions. It is noticeable that most of the paintings have been copied from different photographs of the theatre icon.
Participation of painters who emerged in the mid and late '90s is quite noticeable at the exhibition. The objective is to assemble artists belonging to different age groups, working in different mediums but focusing on a particular subject. The organisers arranged a competition among the participating painters. The awardees are Mohammad Azmoluddin, Kanak Kumar and Mohammad Khalequzzaman Shimul.
Beside the exhibition, an installation, titled "Ghosts of the Heartland" by noted American artist Sara Paula Hoffman's works, are on display at the festival. Paula Hoffman is a Professor of Art, Savannah College of Art and Design, USA. The exhibition features oil paintings and drawings influenced by Ibsen's play, "Gengangere" (Ghosts). Most of the works are closely connected to the psychological world.
The painter seeks to give new directions for experimental artists, who want to explore new themes with new techniques. The artist has created visual theatre on a two-dimensional stage with paintings and drawings. The work draws the curtain on the illusory Kodak moment of the artist's mid-20th century family and social life of America's 'Heartland'. The Midwestern family has been observed through an Ibsen lens; the artist brings themes from the play into her contemporary narrative works. The aim of exhibition is highlighted through wide ranging dialogues with the viewers on contemporary issues from Ibsen's plays.
The exhibition ends on November 24.